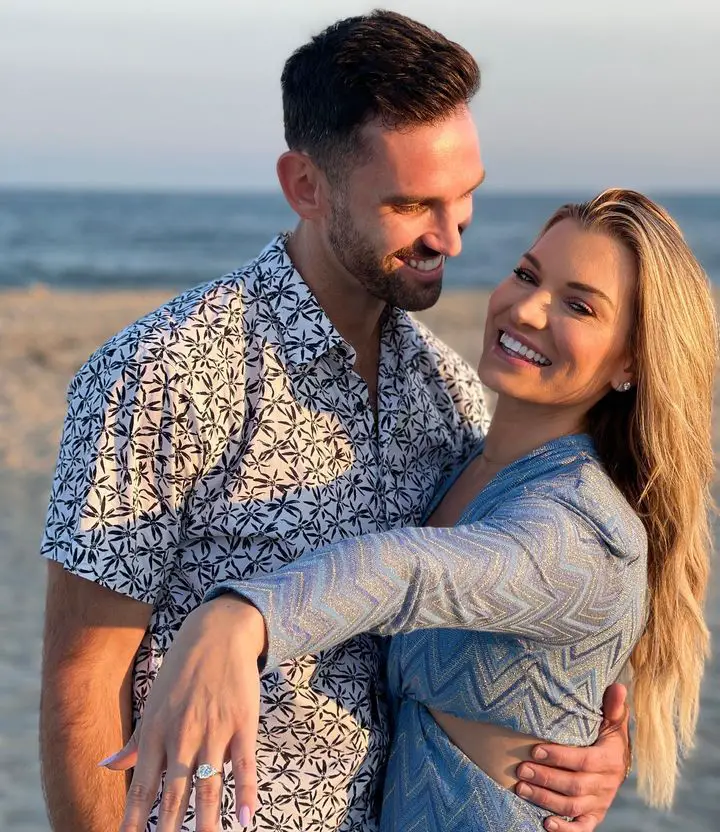 Lindsay Hubbard is rocking a HUGE rock!
Lindsay, an actress best known for her work on The Summer House, is on cloud nine after co-star Carl Radke popped the question. He proposed with a 3.5-carat square brilliant cut cushion diamond with two half-moon diamonds on the side, so we're not surprised.
Taking to Instagram to share her news, Hubbard shared a close-up of the stunning ring, still seemingly in awe of the new gem on her finger: "Yeah, that's f—– for real. That's a whole lotta love."
Here's everything you need to know about Lindsay Hubbard's engagement ring.
What does Lindsay Hubbard's engagement ring look like? 
Lindsay's engagement ring features a 3.5-carat square brilliant cut diamond. 
A square brilliant cut is a type of diamond cut that combines the shape of a square with the brilliance and fire of a round cut diamond. The square brilliant cut has a similar faceting pattern to the round brilliant cut, but with a square or rectangular shape. The cut is designed to maximize the diamond's brilliance, fire, and scintillation by allowing light to reflect off the many facets within the diamond. 
Two half-moon diamonds flank the main stone as well, which means that the ring itself features more than four carats worth of diamonds.  This three-stone setting became particularly popular in the early 2000s, after Prince William proposed to Kate Middleton with a stunning sapphire and diamond engagement ring that featured two smaller diamonds flanking the center stone. 
Who designed Lindsay's engagement ring?
Lindsay's engagement ring was designed by Nicole Rose, a New York City-based jeweler, who also happens to be a longtime friend of the Lindsay's. Nicole is a nature-inspired designer, and was able to help guide the soon-to-be-groom in the right direction.

"I like to think that I'm pretty good at knowing what Lindsay likes, but I did have some help from Nicole Rose, who is an incredible jeweler and good friend of Lindsay's," Radke explained. "I had picked up on a couple of things Lindsay liked and Nicole helped me narrow it down to a few stones, sent me design ideas, and created this beautiful ring."