And for only £30!
With her Hollywood credentials, big heart and a Prince for a husband, it's no wonder that Meghan Markle has been a fixture in gossip websites since she started dating Prince Harry in the summer of 2016. Interest in the former Suits actress and current Duchess of Sussex reached fever pitch last November, when the couple announced their engagement and Meghan showed off a stunning engagement ring.
Meghan's ring was designed by Harry in conjunction with the royal jewellers, Cleave & Co. It features a centre diamond from Botswana (a place close to the couple's heart) and two smaller accent diamonds on either side. The smaller diamonds came from Harry's mother Princess Diana's jewellery collection, and the whole deal is finished off with some Welsh gold donated by the Queen. It weighs in at around 6.5 carats and is supposedly worth up to $350,000. Basically, it's a one-of-a-kind piece with loads of beautiful, very personal touches unique to the couple.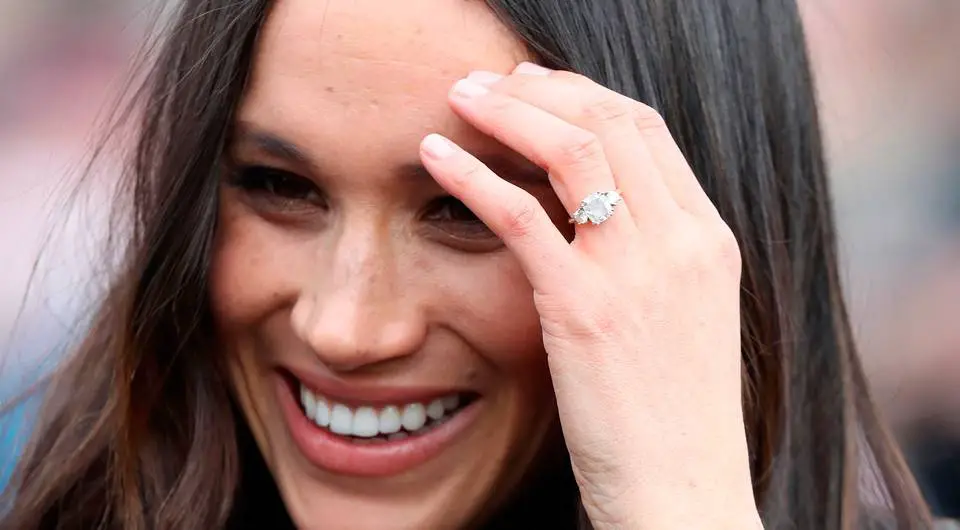 Officials at Kensington Palace initially said they would not be making replicas of Meghan's ring, which is the usual policy; they said the same when Kate Middleton (aka the Duchess of Cambridge) and Prince William got engaged. That hasn't stopped jewellers all over the world from making their own replicas, but the official line from the royal family was 'not now, not ever'. Well, now they've changed their tune.
The Royal Collection Shop is the only place to get officially licensed products such as jewellery, china, confectionery and souvenirs inspired by Buckingham Palace and the royal family. Last week, a new product launched that looks suspiciously similar to Meghan Markle's engagement ring; the Buckingham Palace Statement Ring.
At just £30 it's not quite as special as Meghan's bling, but the design is directly inspired by the real deal. It features three sparkling crystals – one larger stone in the centre with two smaller stones either side. In contrast to the Duchess' band, this one has silver-tone palladium plating instead of yellow gold (well you wouldn't want to steal her thunder, now would you?) The Royal Collection Shop has also launched a matching pendant and earrings for a complete set.
You can get yours here:
https://www.royalcollectionshop.co.uk/jewellery/buckingham-palace-statement-ring.html