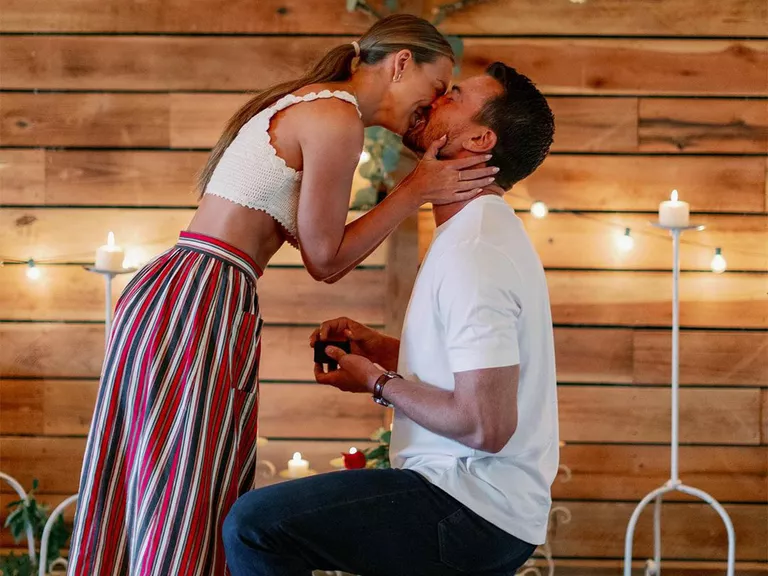 Hannah Brown is no longer a bachelorette.
You heard it here first. The Bachelorette herself has swapped roses for diamonds. Hannah Brown is engaged to her boyfriend —- sorry, fiance — Adam Woolard.
The Dancing With the Stars alum took to Instagram to announce her engagement, captioning her carousel "so happy. i love our steady love."
Whilst the backdrop — Bolt Farm Treehouse in Whitwell, Tenn — was beautiful, we were only interested in the sparkler. Adam proposed with a three-stone Ring Concierge ring: here's everything you need to know about it. 
What Kind of Ring is Hannah Brown's Engagement Ring?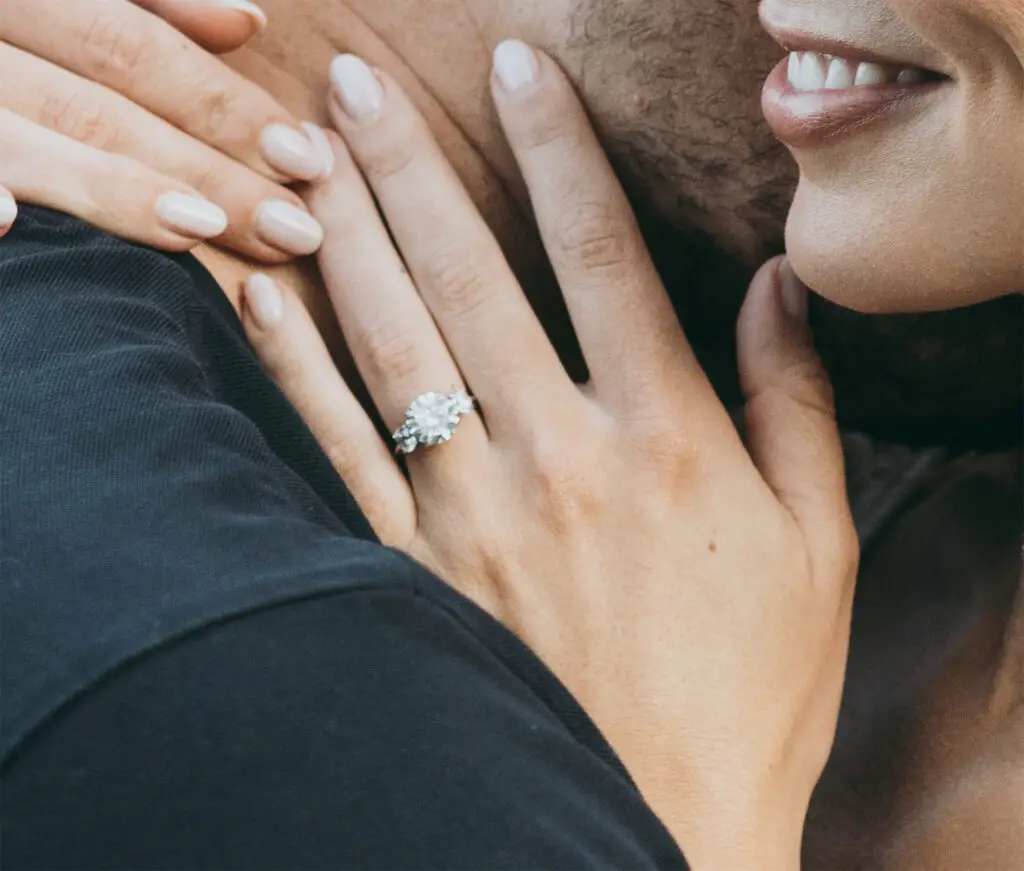 Hannah's ring is a three-stone number featuring a large round brilliant center stone with two matching smaller side stones. Adam explained that he and Hannah had explored various engagement ring options in Tuscaloosa way back in November last year. It was then that he decided on a three-stone design. 
Adam chose the three stone design because of its significance, explaining that the trio of stones symbolizes the past, the present, and the future. He elaborated, saying that it's the largest stone at the center that holds the most special meaning, representing the beautiful present they share together — what he describes as his most treasured aspect of their relationship. We're not crying, you are.
Round brilliant diamonds are one of most popular choices for center stones in engagement rings, and with good reason. The round brilliant cut is renowned for its timeless and classic appearance. It's considered by many to be the most "perfect" of all diamond cuts. Its precisely calibrated angles and facets maximize the diamond's ability to reflect and refract light, creating exceptional sparkle and fire. 
If that wasn't enough, the circular shape of round brilliant-cut diamonds can also symbolize eternity and the unending nature of love. There is no beginning or end to a circle, and similarly, love is often seen as a never-ending journey. Is it any wonder Hannah Brown said yes?!
Who Designed Hannah Brown's Engagement Ring?
Hannah's engagement ring is from Ring Concierge.
Ring Concierge is a prestigious jeweler known for their bespoke engagement rings. They collaborate closely with clients to understand their preferences, style, and vision, using this insight to create custom jewelry pieces tailored to the individual's desires.
With a team of jewelry experts who guide customers through the entire process, from diamond selection to ring settings, Ring Concierge has earned a reputation for providing expert guidance. 
 "We helped Adam create Hannah's dream ring," the founder, Nicole Wegman explained. "It was important to design a ring that was classic and timeless yet unique and sophisticated. To accomplish this, we set a round brilliant center stone with two round brilliant side stones in our handcrafted signature Whisper Thin setting."
How Much is Hannah Brown's Engagement Ring Worth?
While Ring Concierge are keeping the carat count of Hannah's ring private, we'd estimate the center diamond to be approximately 4 carats, with the flanking stones each totaling 1 carat. That won't come cheap. We'd estimate the ring's value to be around $150-175,000.
In Adam's eyes, a small price to pay. He has previously said that he knew they were meant to be together after only a few months of dating. This Bachelorette is officially off the market.