We need to talk about Ethan Dolan's engagement ring for Kristina.
In a heartwarming announcement, YouTube star Ethan Dolan and his longtime girlfriend, Kristina Alice, have taken a leap into the world of forever. The YouTube heart-throb is officially off the market.
In July 2023, Kristina shared the most special day of her life on Instagram, revealing that the couple is officially engaged. The image showed her arms wrapped affectionately around Ethan's neck, and although their faces were hidden, the joy in their hearts shone brightly.
Let's talk about that rock.
What Does Ethan Dolan's Engagement Ring For Kristina Look Like?
Ethan Dolan's engagement ring for Kristina is a masterpiece that seamlessly blends tradition with a touch of contemporary. The ring features a stunning offset pear-shaped diamond, enhanced by a combination of champagne and natural diamonds that gracefully cascade down the band.
At first glance, the ring's classic claw setting exudes timeless elegance, but a closer inspection reveals a new take inspired by the Toi et Moi trend. This innovative approach to the setting showcases the innovative spirit of modern design while paying homage to a trend that has captured the hearts of many. The Toi et Moi style, meaning "You and Me" in French, symbolizes the union of two souls, making it a poignant choice for an engagement ring. 
The use of a combination of champagne and natural diamonds is a masterstroke, adding depth and character to the ring's overall aesthetic. Champagne diamonds, known for their warm and inviting hues, infuse the ring with a sense of romance and intimacy. 
What is a champagne diamond?
Unlike traditional colorless diamonds, champagne diamonds acquire their distinctive color due to the presence of nitrogen during their formation process. The nitrogen molecules absorb light in a way that imparts these diamonds with a warm and earthy palette, ranging from pale yellows and browns to deep cognac shades. This gives each champagne diamond its own unique character and charm, making them stand out from the traditional white diamonds.
Their gentle tones evoke feelings of comfort and warmth, symbolizing a love that nurtures and uplifts.
The choice of multiple diamond cuts, including brilliant, oval, and pear, showcases a captivating blend of shapes and facets that dance and play with light. This symphony of cuts creates a dynamic and ever-changing sparkle, reminiscent of the multifaceted nature of love itself.
Notable celebrities who have embraced similar choices in their engagement rings include Emily Osment and Emily Ratajkowski. Emily Osment's ring features a Montana sapphire paired with a circular emerald stone, a distinctive Toi et Moi design that reflects the unique nature of her love story. Emily Ratajkowski's ring, known for its double-stone design, combines a princess and pear-cut diamond, embodying the trend of individuality and unity that defines the Toi et Moi style.
How Long Have Kristina and Ethan Been Together?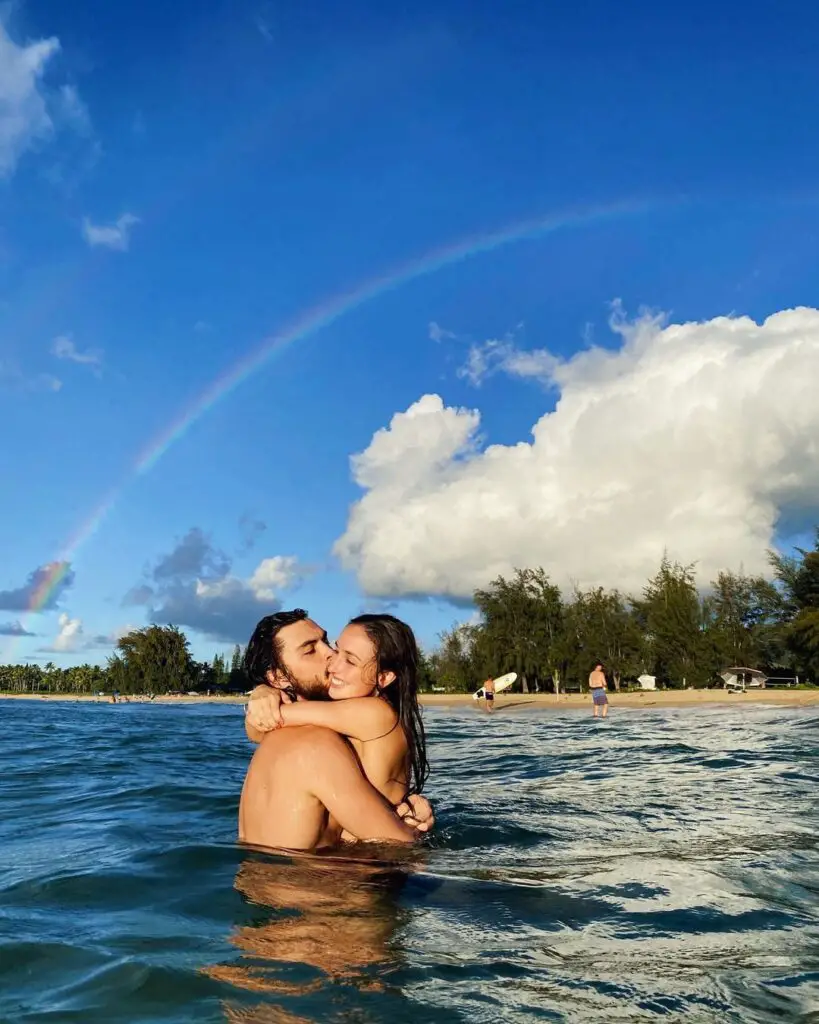 The couple's love story has been a journey filled with excitement and anticipation. Ethan first let fans in on his taken status during a video in July 2020, where he and his brother, Grayson Dolan, reacted to fans' assumptions about them. A fan comment mentioning Ethan's committed relationship prompted him to respond with a simple, "Yup."
However, rumors about their relationship had started circulating months before their official confirmation. Kristina rose to fame after playing Ethan's love interest in the music video for Cub Sport's "Hawaiian Party" in 2018. But it wasn't until December 2019 that their friendship blossomed into romance. Spotted packing on the PDA on an Australian beach, the couple decided to keep their relationship under wraps for a while.
October 2020 marked the turning point when Ethan introduced Kristina as his girlfriend in a YouTube video, sealing the announcement with a sweet kiss on camera. 
Now, with the announcement of their engagement, Ethan and Kristina are stepping into a new chapter filled with love, commitment, and a future full of happiness. As they do, fans and well-wishers are eagerly awaiting more glimpses of their love story, us included.