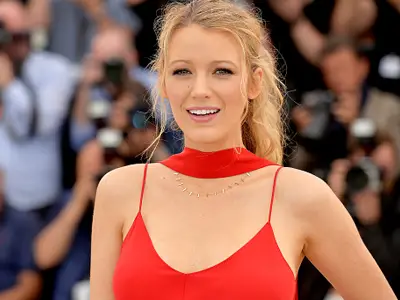 Every week we pick  the best and worst engagement rings to emerge from the land of the rich and famous. This week we feature two rings spotted on the Cannes red carpet…
Engagements happen on a daily basis in showbusiness. Naturally, every bride – whether famous or not – thinks that their own engagement ring is the most beautiful in the world. The rest of us, however, may or may not feel the same. We scour the web every week for the latest celebrity engagement news, and choose what WE feel are the best and worst. It's all done in the spirit of fun, we mean no harm – and of course we wish the best to all of the happy couples! Here are our picks for this week…
The Best: Blake Lively
Although she's been very active in the film and TV industry since she was in high school, Blake Lively is arguably equally well known these days for her impeccable fashion sense. Formerly a cast member of Gossip Girl and the Green Lantern (where she met her now husband Ryan Reynolds), she regularly wins praise from the entire fashion world for her red carpet outfit choices. This year's Cannes Film Festival was no different with Blake looking jaw-droppingly beautiful at every appearance – even with a growing baby bump!
Our favourite fashion item of Blake's is undoubtedly her stunning engagement ring from Ryan Reynolds, however. The couple married in 2012 in South Carolina, and Blake is regularly spotted with this incredible bling. It's a 7-carat light pink, oval-cut diamond with a rose gold prong setting and a delicate pave diamond band, all designed by designer jeweller Lorraine Schwartz. Pink diamonds don't come cheap by the way – this baby is allegedly worth $2 million.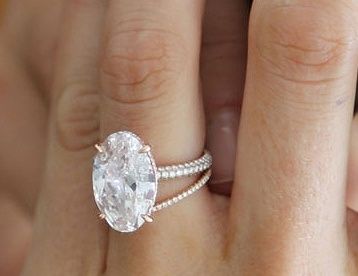 Our Verdict: Just like Blake's dresses, Blake's life and Blake herself, this ring is nothing short of perfect. It's impossibly beautiful, rare, delicate, and we're guessing structurally flawless too. If we could give it more than 10/10 we would.
The Worst: Julia Roberts
Julia Roberts is one of the highest paid actresses in the world, has been nominated for an Oscar on four separate occasions and won once, and has starred in 50 movies over the course of her career to date. She's no stranger to the Cannes red carpet, and this year she turned even more heads than usual by choosing to flout the high heel dress code and walk it barefoot while the world watched her break the rules.
Julia is probably the most down to earth person in all of Hollywood. She married a cinematographer instead of an a-list actor, and they got engaged, got the ring, and got married all in the same day with no fuss – not even the 60 wedding guests knew they were getting married until hours beforehand!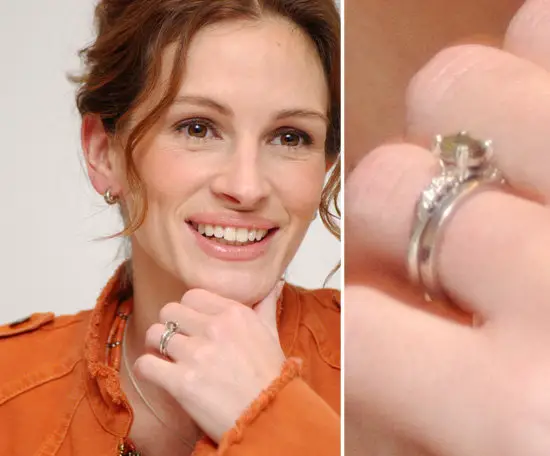 Her engagement ring was purchased in a run-of-the-mill US shopping mall for $3,750. It's an asscher-cut centre stone in a four prong setting, with diamond set shoulders and what looks like a plain white gold band. The centre stone looks to be a coloured gem, possibly a tinted diamond – she's never actually confirmed any details about it. She wears it with a simple plain wedding band, but it still makes for a worthy accessory to those glamorous red carpet gowns.
Our Verdict: We couldn't admire Julia any more for her no-fuss approach to engagement rings as well as life. That said, this ring isn't exactly the most beautiful we've ever seen. While we applaud her refusal to buy into the sparkly Hollywood standard, we just can't resist the undeniable beauty of Blake's rock this time.