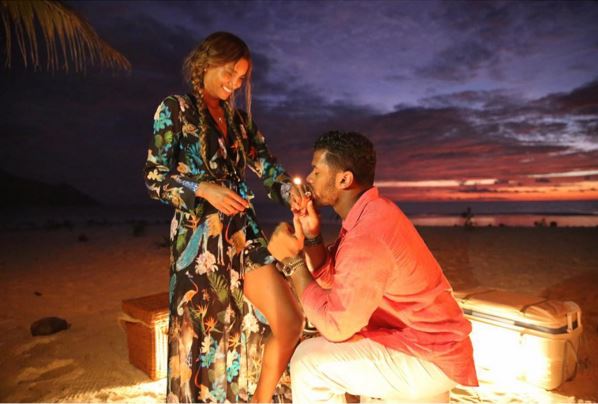 Every week we pick the best and worst engagement rings to emerge from the land of the rich and famous. This week, two rings from total opposite sides of the bling scale go head to head…
Engagements happen on a daily basis in showbusiness. Naturally, every bride – whether famous or not – thinks that their own engagement ring is the most beautiful in the world. The rest of us, however, may or may not feel the same. We scour the web every week for the latest celebrity engagement news, and choose what WE feel are the best and worst. It's all done in the spirit of fun, we mean no harm – and of course we wish the best to all of the happy couples! Here are our picks for this week…
The Best… Ciara
Having been active in the music industry for 15 years now, you'd be forgiven for presuming that R&B superstar Ciara is much older than 30. Along with her recent landmark birthday, Ciara also achieved another significant life milestone this year; she got engaged to boyfriend Russell Wilson, NFL quarterback for the Seattle Seahawks.  
The loved up pair were enjoying an exotic vacation in the Seychelles earlier this month (rumour has it they were celebrating their 1-year anniversary, but who knows) when Wilson popped the question on a deserted beach after sunset. Not too shabby! After Ciara responded with an enthusiastic yes, they posted a video of the happy, teary-eyed and slightly chaotic aftermath to announce it to the world.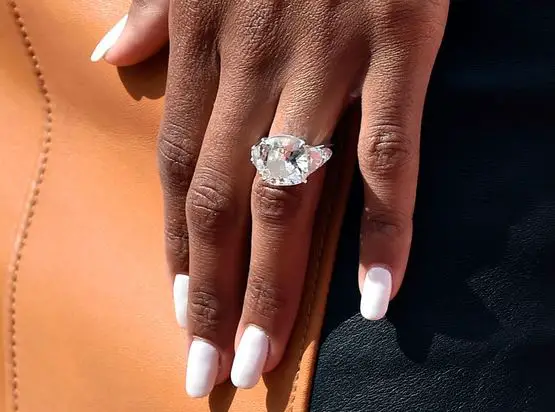 It was only this week that the engagement ring made its first official outing, but it was worth the few weeks of waiting. This 16-carat, $2 million beauty features a central cushion-cut diamond with what appears to be trillion cut diamonds on either side. It also has a thick, most likely platinum band – and considering the size of the rocks, this piece needs all the support it can get!
Our Verdict: It's probably just a tad too big for our personal tastes, but for Ciara this is perfect. Even though it's almost impractical in size, she rocks it as only she can – even when she's running errands with her baby boy in arm. We have no doubt those diamonds are flawless too.
The Worst… Mia Goth
You may not know Mia Goth's name just yet, but watch this space; she's destined to be a big deal. The 22-year old British actress already has a handful of projects under her belt including TV series, short films and a role in 2013's Nymphomaniac, where she first met boyfriend Shia LaBoeuf.
The pair have been dating since then and Mia has been wearing a diamond ring on her left hand for a year now, but an engagement has never officially been confirmed. In the past few days however, rumours have spread like wildfire that they're finally set to tie the knot any day.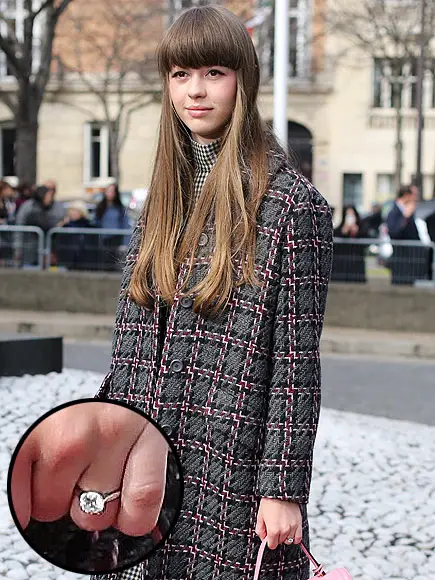 Shia has been shunning blockbuster films of late and opting for various artistic performance projects like live streaming 24 hours of talking to strangers in a lift, or watching every one of his movies back to back. So we were surprised to see that he chose the most traditional ring out there; a diamond solitaire with a classic prong setting on either white gold or platinum (we'll go with platinum since they're probably able to afford the upgrade).
Our Verdict: There really isn't a whole lot to say about this ring, unfortunately. Even for the average Joe (average Jane?) bride, it's a little plain. But maybe that's exactly what they both wanted – after all, neither Shia nor Mia could ever be considered the traditional Hollywood couple, so why should they go for the usual big and sparkly ring?