Every week we pick the best and worst engagement rings to emerge from the land of the rich and famous. In this edition, two very unique rings go head to head…
Engagements happen on a daily basis in showbusiness. Naturally, every bride – whether famous or not – thinks that their own engagement ring is the most beautiful in the world. The rest of us, however, may or may not feel the same. We scour the web every week for the latest celebrity engagement news, and choose what WE feel are the best and worst. It's all done in the spirit of fun, we mean no harm – and of course we wish the best to all of the happy couples! Here are our picks for this week.
The Best: Jessica Biel
Jessica Biel and Justin Timberlake have long been the definition of 'couple goals'. They met ten whole years ago in 2007, at that year's Golden Globes awards ceremony. Justin had recently broken up with his high-profile beau Cameron Diaz, and struck up a friendly conversation with Jessica. A low key romance began, and the pair eventually went public in 2009. From there they began one of Hollywood's 'it' couples, but always managed to stay down to earth.
In 2011 the pair released a joint statement, seemingly out of the blue, announcing that they had broken up. Most gossip columns couldn't believe it was true. Love wasn't lost however; over the holidays Jessica and Justin reconciled, and took their relationship to the opposite end of the spectrum from broken up to engaged! They married the following year in Italy (with Jessica wearing a stunning baby pink ball gown wedding dress), and their first child Silas arrived in 2015.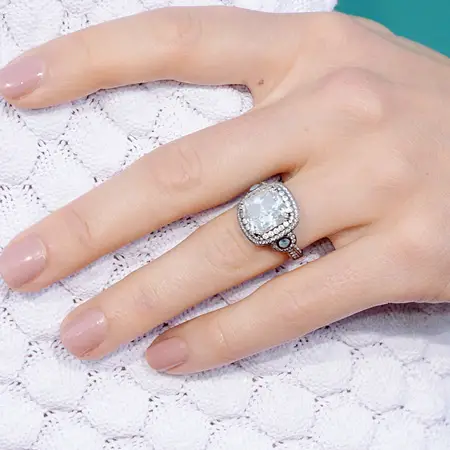 Jessica's engagement ring was custom made by Leor Yerushalmi, with Justin heavily involved in its design. Worth well over $100,000 and showcasing a unique vintage yet modern vibe, this ring features a 6-carat cushion cut diamond as the centrepiece. It's surrounded by a double halo of tiny, round white diamonds, all set in blackened platinum for a unique look. It also features round aquamarine accent stones, with these and the band also surrounded by diamonds (on three sides, by the way).  
Our Verdict: One of our all time favourites, we love the personal touches Justin added to this ring (aquamarine is Jessica's birth stone). It's glamorous but delicate, ultra chic and with a vintage twist. Basically, we can't get enough.
The Worst: Irina Shayk
Irina Shayk is a Russian born model who's been on the circuit since 2007. She's appeared in Sports Illustrated, was the face of lingerie brand Intimissimi, and has also been involved in campaigns for Victoria's Secret, Lacoste and many others. Oh, and she's walked the catwalk for pretty much every designer brand out there.
Irina's jet set lifestyle has lead to some pretty high profile romances; she dated Portuguese footballer Cristiano Ronaldo, one of the greatest players in the history of the game, for five years. After they broke up in 2015 she got together with her current beau, three time Oscar nominated actor Bradley Cooper. They welcomed a baby girl together, Lea, in March of this year.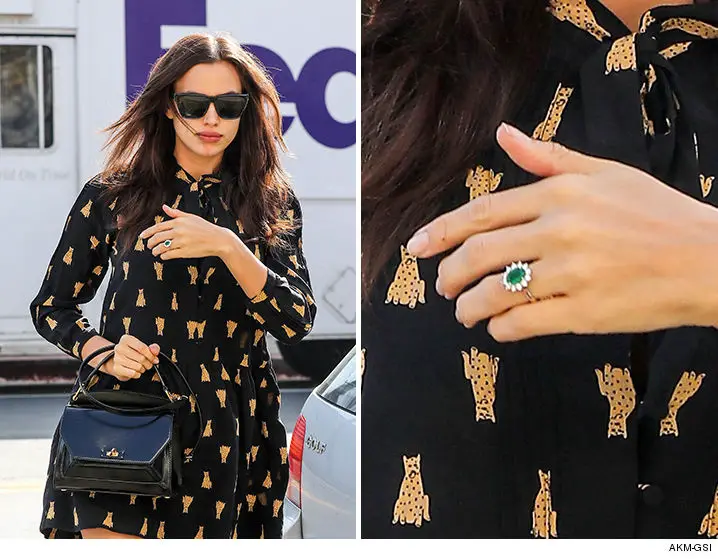 The story goes that immediately after Irina gave birth, Bradley got down on one knee with this beautiful sparkler. However, paparazzi spotted her wearing it while still pregnant, so who knows. Either way, it's a gorgeous vintage design. The centre stone is an oval shaped emerald, surrounded by 14 round brilliant white diamonds and sitting on top of a yellow gold band. It bears more than a passing resemblance to Kate Middleton's world famous design, and is full of time-honoured appeal.
Our Verdict: With a decade of experience in the fashion industry, Irina is no amateur when it comes to style. We do like this engagement ring a lot.. It's just we've seen the same design so many times before. It definitely works for Irina, but it's not for us. We'll happily take Bradley though.