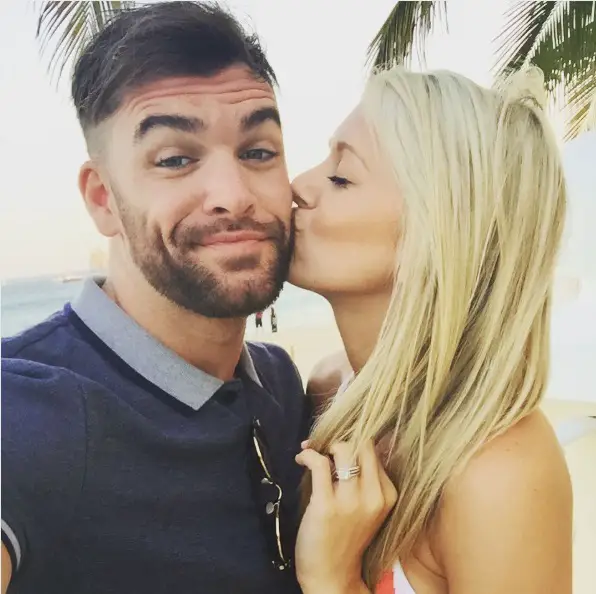 Source: Blair Anderson Instagram
Dylan Scott is officially off the market. The country music heartthrob who brought us hits like "Crazy Over Me" and "Lay It on Me" broke hearts around the world when he married his high school sweetheart, Blair Anderson.
Dylan met his wife when they were just teens in Louisiana. Scott chronicled their love story in "My Girl," — a love letter to Robinson after they endured a long-distance relationship for six years while Scott tried to make it big in Nashville. 
Today, we're looking at the ring that sealed the deal. 
Here's everything you need to know about Blair Anderson's engagement ring. 
What does Blair's Ring look like?
Blair Anderson's engagement ring features a beautiful cushion-cut diamond set in a stunning platinum band adorned with baguette-cut diamonds. 
The geometric design and Art Deco-inspired aesthetic perfectly capture Blair's elegant and sophisticated style.
Why is the cushion-cut diamond a popular choice?
The cushion-cut diamond is known for its clean lines and understated elegance. With its step-cut faceting style and rectangular shape, the diamond offers a unique blend of vintage charm and modern sophistication. This cut is ideal for those seeking a timeless engagement ring with a distinct character.
Who is the jeweler behind Blair Anderson's engagement ring?
Blair Anderson's engagement ring was crafted by the renowned jewelry designer Jean Dousset. As the great-great-grandson of famed jeweler Louis Cartier, Dousset carries on the family legacy by creating exquisite, bespoke engagement rings for clients around the world.
The exact cost of Blair Anderson's engagement ring has not been publicly disclosed. However, considering the size and quality of the cushion-cut diamond, the intricate platinum setting, and the additional baguette-cut diamonds, it's estimated that the ring's value could range from $80,000 to $200,000.
Blair Anderson's engagement ring is a dazzling statement of love and elegance. While we may be sad that Dylan Scott is off the market, we can't help but be happy for these childhood sweethearts. A match made in heaven.