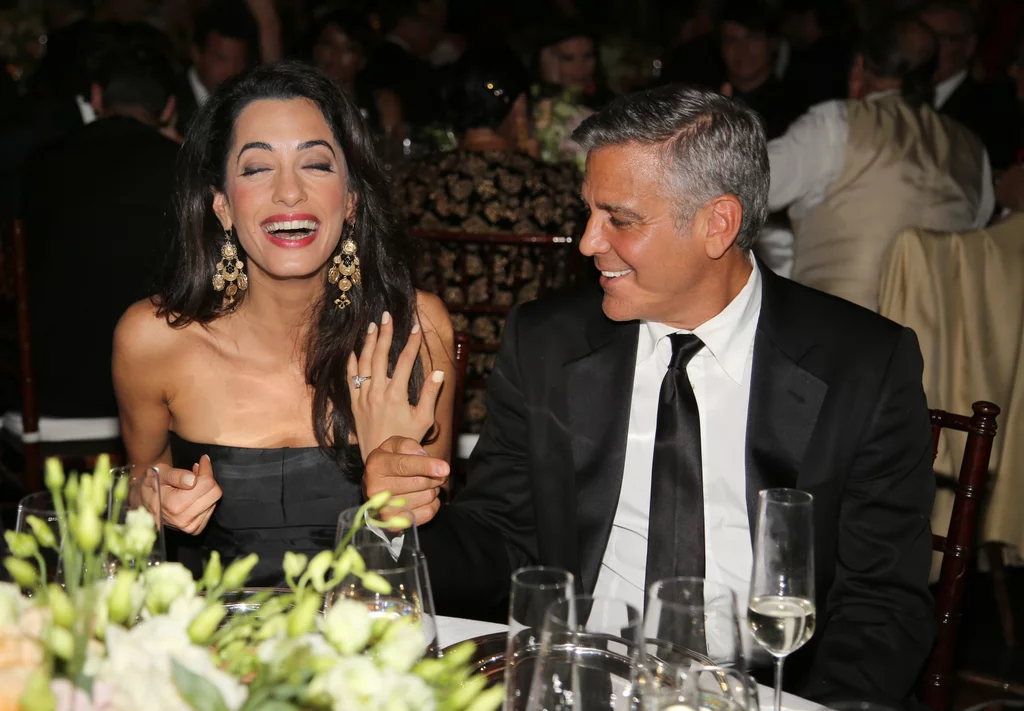 Source: Getty / Rachel Murray
Amal Clooney is a prominent human rights lawyer who has made a name for herself in the legal world. In 2014, she became engaged to Hollywood heartthrob George Clooney, and the couple quickly became one of the most talked-about pairs in the entertainment industry. 
Of course, one of the most buzzed-about aspects of their engagement was Amal's stunning engagement ring. A 7 carat emerald cut diamond flanked by tapered baguette diamonds in a sleek platinum band. 
It's no dainty diamond, that's for sure, and we've got everything you need to know about the beautiful ring.
What kind of ring is Amal Clooney's engagement ring?
Amal Clooney's engagement ring features an exquisite emerald-cut diamond set on a platinum band. 
The diamond itself is estimated to be around 7 carats, and its elongated shape gives it a sleek, modern look that's both glamorous and understated.
One of the most significant features of Amal Clooney's engagement ring is the stunning emerald cut. An emerald cut is characterized by its rectangular shape and stepped facets, which give the diamond a unique, reflective quality that's unlike any other. The emerald cut is a popular choice for engagement rings, as it's known for its sophistication and understated glamour. The best part? The diamonds were ethically mined. Perfect, for a human rights lawyer. 
The platinum band of the ring is also noteworthy, as it adds a clean, modern look to the overall design. The minimal style allows the emerald cut to be the star, with the baguettes highlighting the centre sparkler.
Who designed Amal Clooney's engagement ring?
Amal Clooney's engagement ring was designed by none other than George Clooney himself. He worked closely with a jeweler to create a ring that would perfectly suit Amal's style and personality, and the result was a breathtaking piece of jewelry that perfectly captured the couple's love and commitment.
Did Amal change her engagement ring?
Amal Clooney has not yet changed her engagement ring, but she is reportedly looking to downgrade it. 
Amal has reportedly been shopping at Cartier for a simple platinum band. As a prominent human rights lawyer, she doesn't want undue attention drawn to her jewelry when she's working on cases involving corruption or genocide. Makes sense, with the ring costing an estimated $750,000. Thankfully, she still wears it for all other occasions, so we can continue to appreciate the beauty from afar.
Amal Clooney's engagement ring is a stunning piece of jewelry that perfectly captures the elegance, sophistication, and understated beauty of its owner. Whether you're a fan of Hollywood glamor or simply appreciate timeless elegance, this engagement ring is sure to inspire and delight.