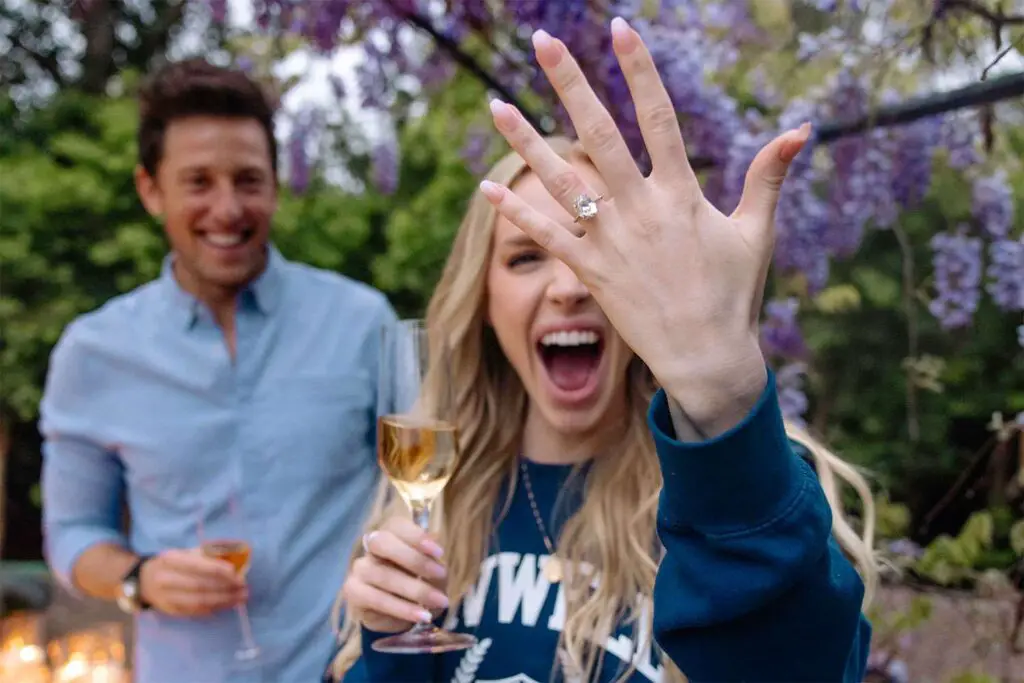 Daddy gang. It's happened. Alex Cooper is officially locked down.
Alex Cooper, the host of the podcast that took the millenia world by storm "Call Her Daddy," recently got engaged to her boyfriend, Matt Kaplan. Fans of the show — aka the daddy gang — were thrilled to hear the news, but couldn't wait to see the ring. 
As expected, it did not disappoint.
The stunning ring was designed by Jenna Blake, and features a 5-carat antique oval cut diamond set in a single-prong setting. Here's everything you need to know about Alex's beautiful ring.
What is Alex Cooper's engagement ring like?
The ring that Kaplan gave to Cooper is a 5-carat antique oval-cut diamond set in a single-prong setting. 
The antique design of the ring is what makes it stand out. The diamond is set in a delicate, intricate band that has been carefully crafted to highlight the beauty of the stone. The single-prong setting also adds to the ring's elegance and simplicity.
The ring has a classic look with a modern twist. The single-prong setting allows the diamond to shine and sparkle in the light, while the antique oval cut gives the ring a vintage feel. 
The oval cut gives the diamond a unique shape that allows it to reflect light in a way that is both dazzling and mesmerizing.
The design is simple yet elegant, making it the perfect choice for someone who wants a timeless piece of jewelry that will never go out of style.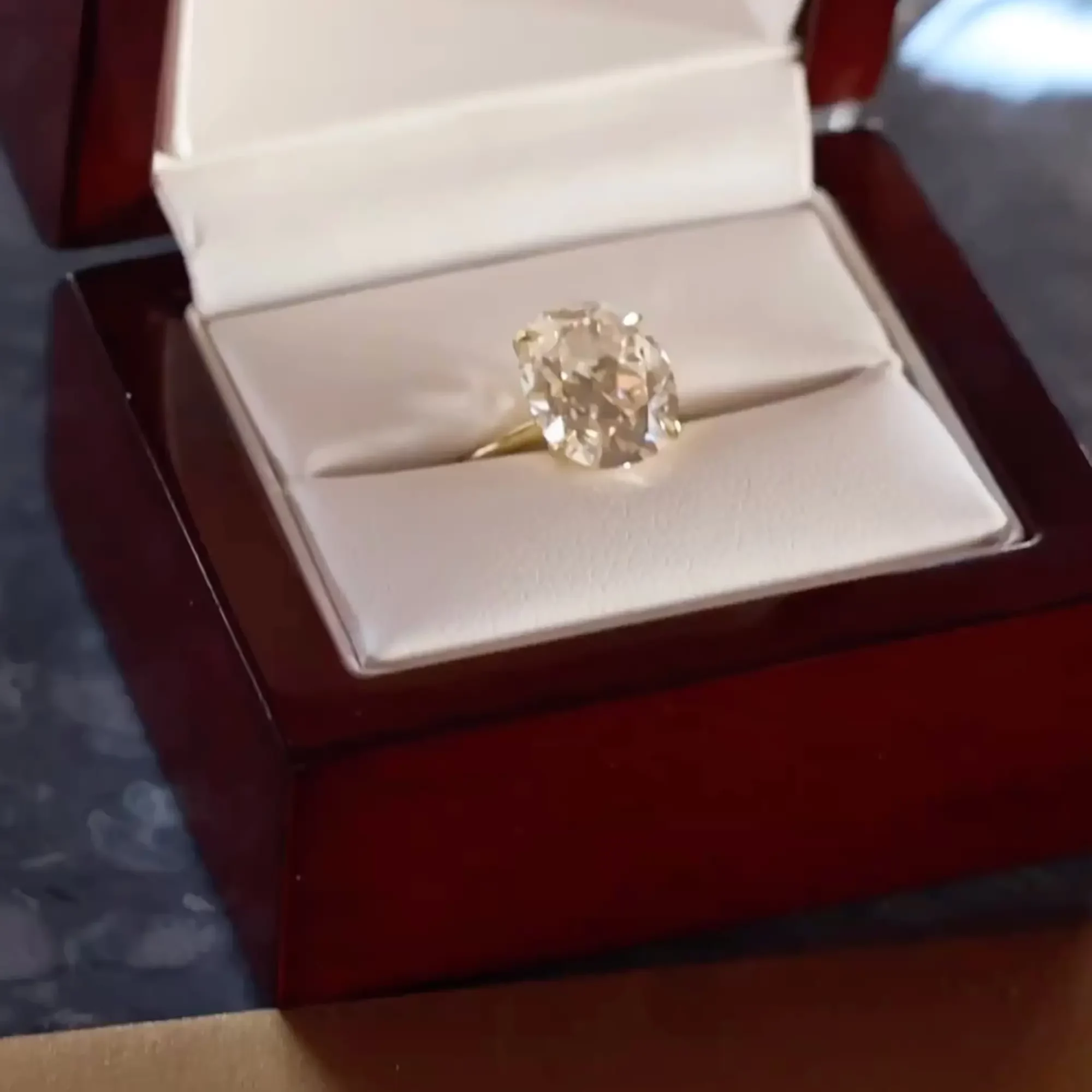 Who designed the engagement ring?
The diamond is estimated to be worth over $500,000 and was designed by Los Angeles-based jeweler Jenna Blake.  
Blake is known for her ability to create timeless yet trendy pieces of jewelry. She has a keen eye for detail and is passionate about creating pieces that are as unique as the person who wears them.
Blake has also created rings for celebrities such as Miley Cyrus and Jane Fonda, solidifying her reputation as one of the top jewelers in California.
How did Matt propose to Alex Cooper?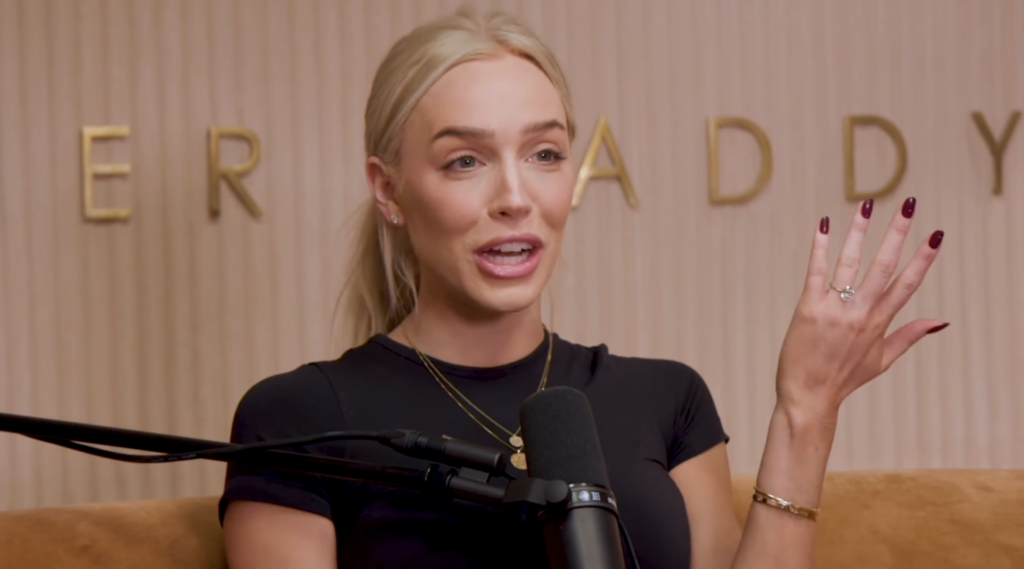 Alex had always said that she was not interested in getting married. 
However, it seems that Matt was able to change her mind. 
Alex Cooper's engagement to Matt Kaplan was nothing short of a fairytale proposal that left her in tears of joy. The proposal was a combination of a scavenger hunt and a surprise Zoom call with her family and friends.
The zoom call is funny, as it's how their relationship started in the first place. The two met in 2020 during a business call, and Cooper referred to him as "Mr. Sexy Zoom Man" on her podcast.
The call was set up by Kaplan's publicist, who thought that Cooper and Kaplan would hit it off. The publicist was right, and the two started dating soon after. The rest was history.
It's safe to say that Alex Cooper's engagement ring is a beautiful and unique piece of jewelry that perfectly captures the essence of her style. With its stunning diamond and expert craftsmanship, it's no wonder that so many people are talking about it.