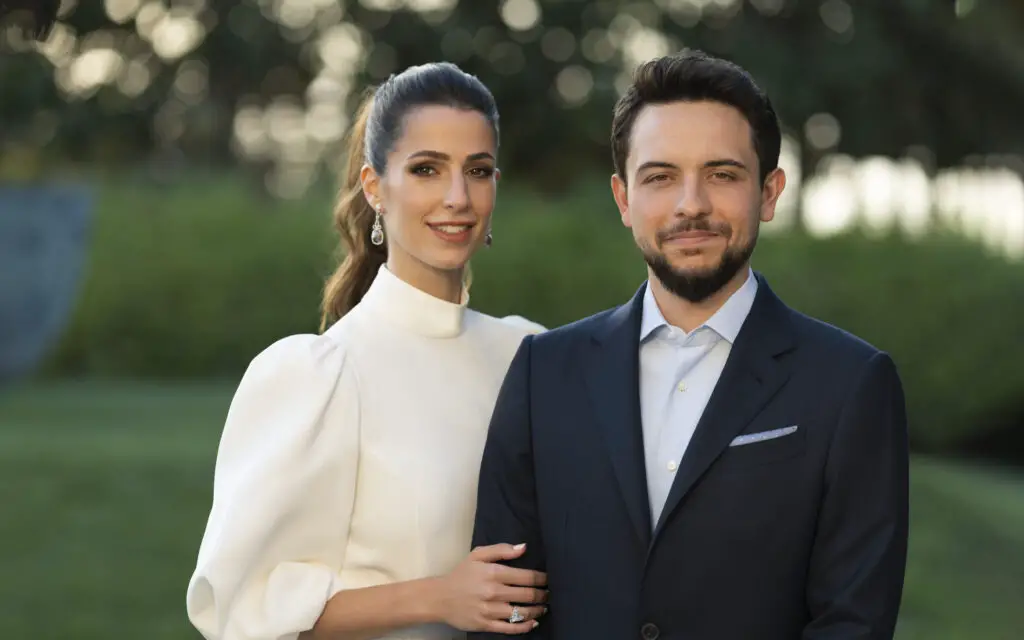 Rajwa Al Saif, now known as Princess Rajwa Al Hussein, and Prince Hussein announced their engagement in a grand ceremony that captivated the world. 
It was a joyous occasion filled with opulence and tradition, but all eyes were on Princess Rajwa's finger, and the dazzling pear-shaped diamond that sat upon it.
Fit for a princess, this masterpiece exudes elegance and is adorned with intricate details, here's everything you need to know about the Princess Rajwa's engagement ring.
What Does Princess Rajwa's Engagement Ring Look Like?
Rajwa Al-Saif's ring is a claw set pear cut diamond engagement ring, mounted in white gold, and shouldered with two smaller pear cut diamonds either side.
The pear cut has a distinctive tapered shape that allows for it to be worn two ways: with the point facing up or down on the hand. Tradition dictates that a pear-cut stone should be worn with the point facing away from the wearer, but the rules aren't set in stone. Increasingly, we're seeing a shift away from the formality of the past, and Rajwa has been seen wearing the ring both ways.
I don't think it's possible to put into words quite how exquisite the center stone is: the stone itself could weigh as much as 20 carats and it's likely this diamond will be colorless and flawless, sourced from a reserve of exceptional, one-of-a-kind, and sometimes historical stones. This is royalty we're talking about after all.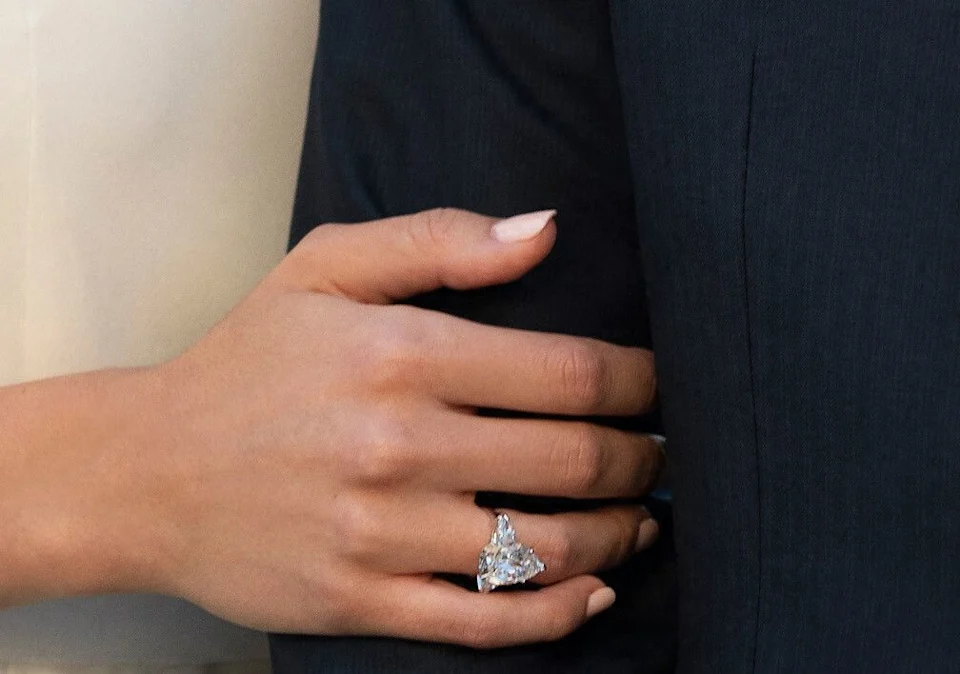 Who Designed Princess Rajwa's Engagement Ring?
The mastermind behind Princess Rajwa's engagement ring was none other than the esteemed jewelry house, Harry Winston. With a rich history dating back to 1932, their creations have graced red carpets, royal weddings, and the collections of the world's most discerning individuals.
Founded by the "King of Diamonds," Harry Winston himself, the brand has become renowned for its rare gemstones and exceptional diamonds. He had an unrivaled passion for sourcing only the most exquisite and unique gems from around the globe. It was this dedication to acquiring the finest materials that set Harry Winston apart and solidified their status as a leader in the world of high jewelry.
How Much Did The Ring Cost?
Are you sitting down for this one? With a colossal colorless center stone weighing as much as 20 carats, the estimated value could be in excess of $5million. And that's before we factor in the baguette stones and the band.
It's safe to say it's a doozy, but surely a drop in the water for the Prince of Jordan. Queen Rania took to Instagram to pen a heartfelt message to the newly-engaged couple. "I didn't think it was possible to hold so much joy in my heart! Congratulations to my eldest Prince Hussein and his beautiful bride-to-be, Rajwa. Excited to welcome my third daughter, Al Hussein's bride-to-be, Rajwa, to the family! We're so happy for you both."