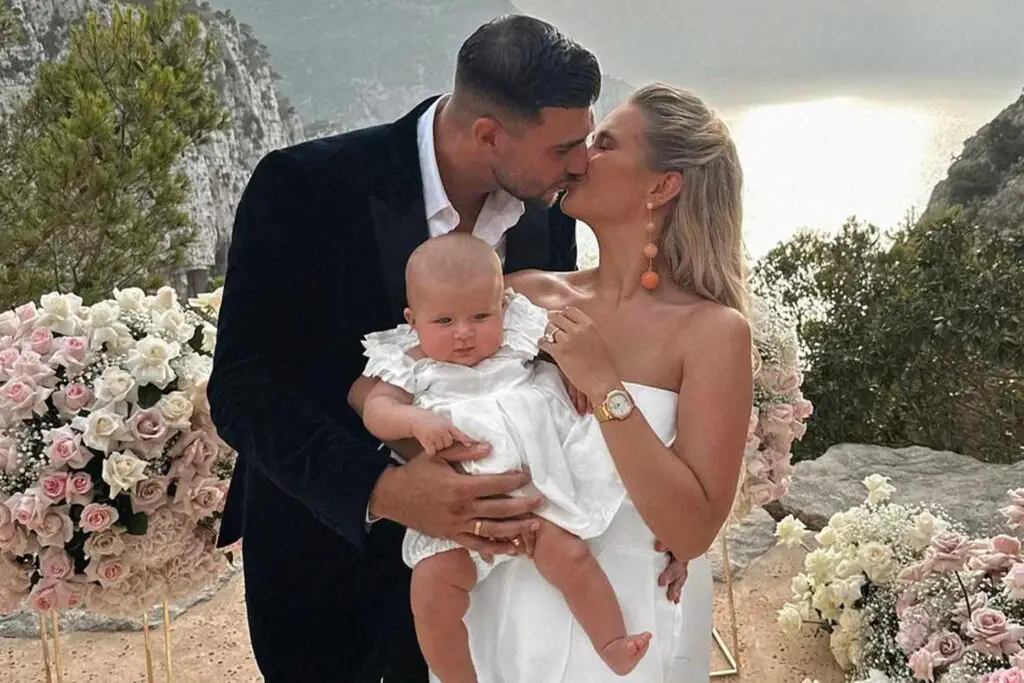 It has happened. Tommy has popped the question (and we've not stopped crying since). 
Molly-Mae Hague and Tommy Fury warmed everyone's hearts after announcing that they got engaged four years after meeting on Love Island.
The reality stars, who became parents for the first time this year when they welcomed their baby girl Bambi in January, shared a heartwarming video on Instagram of the moment Tommy got down on one knee.
We didn't get a close up of the ring, but we didn't need one — you could see the stunning diamond from a mile off.
Here's everything we know about Molly-Mae's engagement ring: from cut to colour, to clarity and cost.
What Does Molly-Mae's Engagement Ring Look Like?
The beautiful ring features a rare 6ct oval diamond. This cut creates an elegant shape, appearing larger than other cuts of similar carat weight. The elongated shape also accentuates the stone's brilliance, making it a sight to behold from every angle. The longer silhouette flatters Molly Mae as the shape mimics the natural lines and curves of her finger.
The diamond looks to be near colourless with VVS1 clarity. 
It's accompanied with a halo of smaller diamonds which completes the design, enhancing the size and sparkle of the central stone while giving the ring a vintage feel. The diamond-set shoulders extend the ring's brilliance, leading the eye to the central gem (not that it needs it)
The use of platinum, a durable material, makes it the ideal choice for such a substantial ring, finalising this luxurious piece.
We couldn't have designed it better ourselves.
How Much Did Molly Mae's Engagement Ring Cost?
A lot.
Given the rare 6ct oval diamond and accompany halo stones, we'd estimate Molly Mae's ring to cost $750,000. A pretty penny for a pretty special relationship.
How Did Tommy Propose?
Molly-Mae has since revealed some of the finer details surrounding Fury's proposal in Ibiza. Sharing a photograph of her and Tommy on the day of the proposal holding hands, the 24-year-old explained: "Just before we were leaving for a 'brand even' we'd both been invited to… Fake invites, fake emails, notes in the hotel room from the brand, everyone playing along so unbelievably well."
The Love Island star admits she was 'COMPLETELY and utterly fooled' and only realised 'all was not what it seemed' when the pair pulled up to the 'event' and Tommy 'jumped out of the car and ran off', with the 24-year-old soon-to-be-fiancée handed a letter.
"I walked down a very steep hill to find these two (Tommy and Bambi) waiting for me… AND Ruth Anne singing my favourite song , he couldn't have made the moment any more perfect. Flying my glam team over, my videographers, my favourite singer… I just can't get over it."