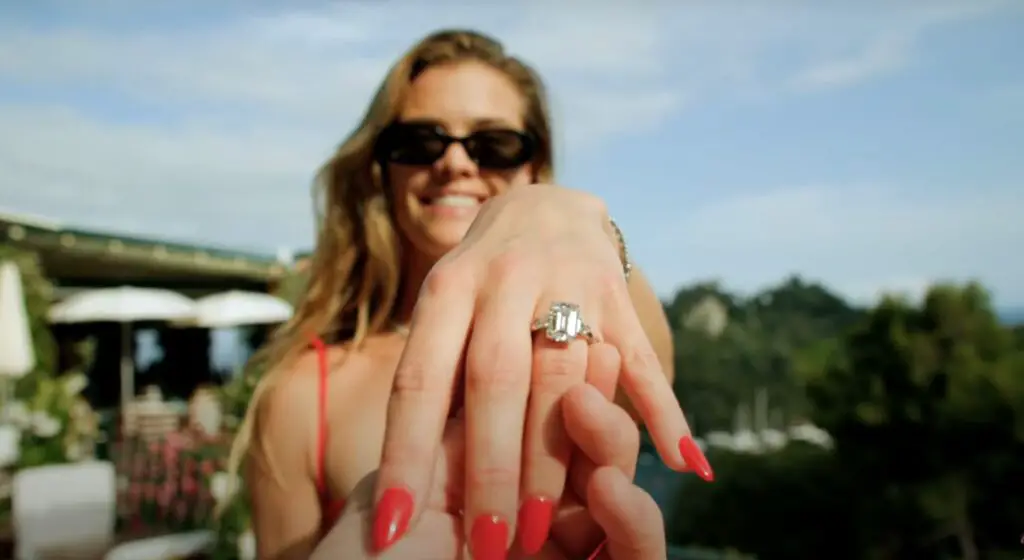 YouTube's bad boy has officially turned over a new leaf. 
After a year of dating, Logan Paul has announced his engagement to Danish model Nina Agdal. The beautiful couple announced their engagement last week, and the YouTuber and WWE star has since uploaded a video with behind-the-scenes footage of his proposal.
Whilst the BTS content is great, we're just happy to get a closer look at Logan Paul's engagement ring for Nina. Designed by Logan himself, the ring is a lot more traditional than any of us expected. 
Here's everything you need to know about the three stone beauty.
What is Logan Paul's Engagement Ring For Nina Like?
Logan Paul proposed to Nina Agdal with a traditional three stone engagement ring.
It features a 6-carat emerald-cut diamond as the centerpiece, accompanied by two bullet-cut diamond side stones. Thanks to their v-shaped tip, bullet cut diamonds are the perfect way to transition to the shank – they can also make a ring's center stone look bigger and brighter. As well as looking good, they also make the ring more sentimental. 
Three stone engagement rings represent a different stage in a couple's relationship. The center stone typically represents the present, while the two smaller side stones symbolize the past and future. This design is often seen as a representation of the couple's journey together.
The entire ring is set in platinum and has a v-shaped band. A v-shaped band, or chevron band is characterized by a V-shaped curve or point in the center of the band, creating a distinctive and angular look. In Nina's case, the V-shaped band enhances the appearance of the center stones. The V-shaped prongs create a visually appealing frame drawing more attention to its brilliance and sparkle.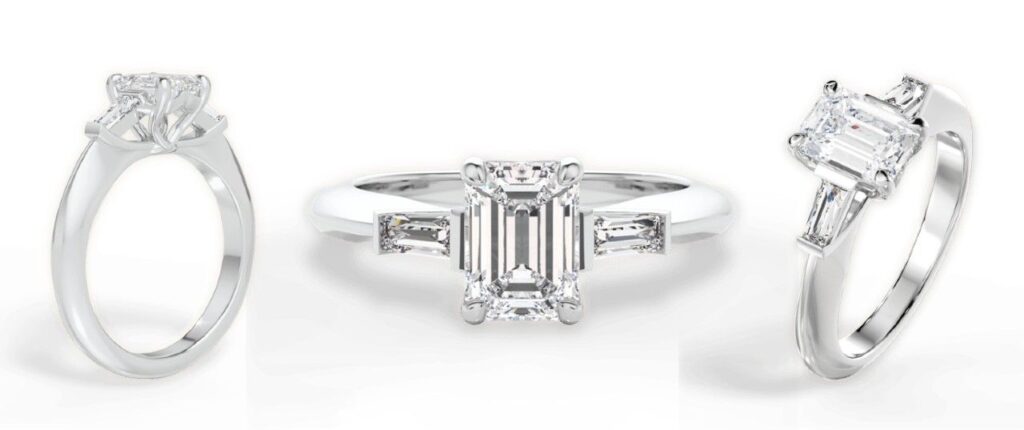 Who Designed Logan Paul's Engagement Ring?
Logan Paul designed the engagement ring for Nina himself, which is a testament to his own taste. Speaking about the process he said "I am so excited to finally get this rock that I designed on her finger. And I have to say, I'm pretty proud of it.
People don't talk about how stressful it is for dudes to pick out a ring for their soon-to-be wife. It is… This wasn't like a ring I just bought. I picked out the diamonds first, then told them I wanted a platinum setting with bullet-cut diamonds and Talon prongs holding the main one."
How Much Is Logan Paul's Engagement Ring Worth?
Logan's brother, fellow YouTuber Jake Paul, posted a video titled 'Diamond Testing Logan's $1m Engagement Ring'. While Jake has been known for his click-bait titles, it's safe to say the ring won't have come cheap.
While we don't have an exact price tag for the cost of the ring, given the size and quality of the three stones, I'd estimate the ring to be worth $500,000.