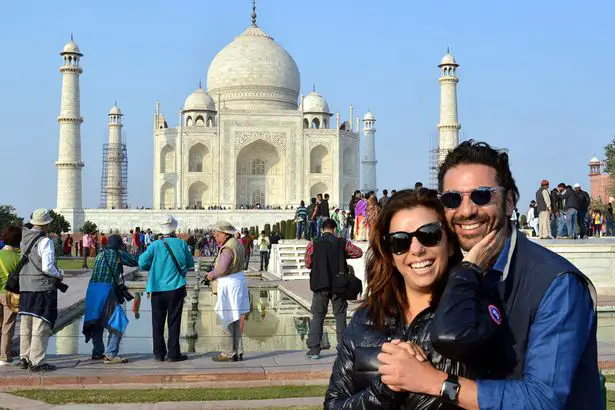 Every week we pick the best and worst engagement rings to emerge from the land of the rich and famous. This week, two absolutely stunning pieces go head to head – seriously. Get ready to drool all over your screen…
Engagements happen on a daily basis in showbusiness. Naturally, every bride – whether famous or not – thinks that their own engagement ring is the most beautiful in the world. The rest of us, however, may or may not feel the same. We scour the web every week for the latest celebrity engagement news, and choose what WE feel are the best and worst. It's all done in the spirit of fun, we mean no harm – and of course we wish the best to all of the happy couples! Here are our picks for this week…
The Best… Eva Longoria
Everyone's favourite Desperate Housewives star and L'Oreal ambassador joyfully announced her engagement to her businessman boyfriend of 2 years, Jose Antonio Baston. It's Eva's third engagement, but you know what they say about third time lucky, and by the sounds of his proposal this guy sure sounds like a keeper…
The couple were visiting Dubai for an appearance at Dubai International Film Festival. During their down time, Jose whisked Eva off to the desert that surrounds the city. They were greeted with luxurious red rugs and couches with a rose petal walkway, complete with music, champagne and a picnic. There, Jose got down on bended knee, and this happened: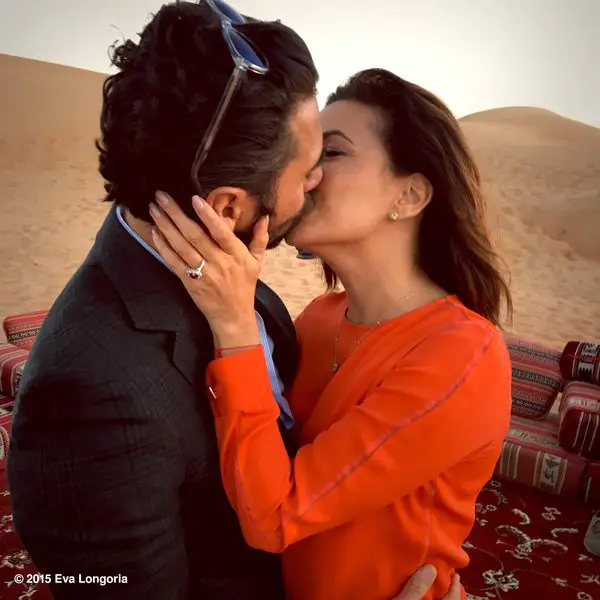 Wait – LOOK at that ring. It's a jaw-dropping ruby, either pear or round, with a thick diamond halo and what looks like a pave setting. How could anyone say no to that? The couple celebrated their engagement by riding camels, dancing into the night, and partying with friends, as one does when in Dubai.
Our Verdict: We're in love! This ring is utterly fabulous. The blood red ruby and halo setting make for classic Hollywood glamour that fits perfectly with a lady of Eva's stature. It hits on plenty of trends, yet its style is still guaranteed to be timeless. We only wish we could drool over this beauty in person…
The Worst… Erica Stoll
We'll forgive you if you're asking 'Who's Erica Stoll?' right now. She's not 'famous', but she's about to be… she just got engaged to one of the best golfers in history, Irishman Rory McIlroy. Erica works for the PGA, which is how she met Rory, and the pair have been inseparable since they first started dating in 2014.
If you believe everything you read, when Rory almost ruined his Ryder Cup chances in 2012 because he overslept, Erica was the trustee PGA staff member who came to his rescue and made sure he got to the golf course on time. She's a New York native living in Florida, and besides golf, she likes sailing, baking, and enjoying the outdoors.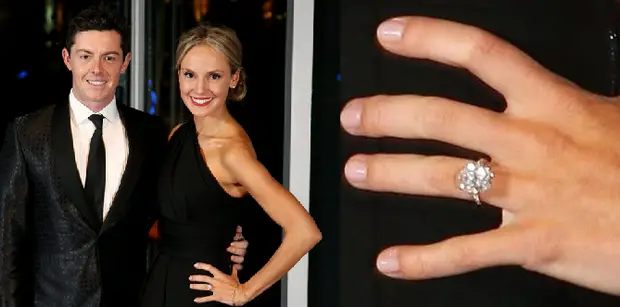 As a world renowned pro golfer, it's a well known fact that Rory has a very healthy bank account, but wait til you hear what some experts say the ring he gave Erica is worth… Oh, just a cool 600,000 euros (over $650k). Media reports say that he popped the question in Paris too; what a romantic.
It's a sweet and simple oval cut diamond – obviously flawless or very close to flawless for that price – on an even sweeter and simpler bare metal base. We'll go ahead and assume it's platinum.
Our Verdict: The oval cut is very much the hot choice of the moment, and a simple band like Erica's let's the diamond do all the talking rather than relying on pave or halo settings. Overall this is clearly an exquisite piece, but it's just a bit too run-of-the-mill for us as far as style is concerned. Still though, excellent choice Rory.