Every week we pick the best and worst engagement rings to emerge from the land of the rich and famous. In this edition, we compare two VERY different ring styles…
Engagements happen on a daily basis in showbusiness. Naturally, every bride – whether famous or not – thinks that their own engagement ring is the most beautiful in the world. The rest of us, however, may or may not feel the same. We scour the web every week for the latest celebrity engagement news, and choose what WE feel are the best and worst. It's all done in the spirit of fun, we mean no harm – and of course we wish the best to all of the happy couples! Here are our picks for this week.
The Best: Jenna Coleman
British actress Jenna Coleman first found fame in soap opera Emmerdale before landing a role in the hugely popular sci-fi show, Doctor Who. Having played the doctor's companion Ciara Oswald from 2012 – 2015, it was time for a new venture. That new venture was as Queen Victoria herself in the gripping 8-part mini-series about the monarch, named Victoria.
While filming she met fellow actor Tom Hughes on set, and love quickly blossomed. Still as smitten as ever a year later, the couple appeared on the red carpet together to launch the second installment of the Victoria series, with Jenna wearing a noticeable ring on a certain finger.
This absolute beauty is what looks like a small round opal in yellow gold, with an art-deco and vintage-inspired setting of flower petal style round shapes on one side and small milgrain on the other. It's vintage and contemporary all at once, and we can't stop staring.
Our Verdict: Wow, wow, wow! It's delicate, it's beautifully designed, and it's got our favourite gemstone of all; opal. We could go on forever about how much we love this ring. Here's hoping it's a real deal engagement ring and not just a costume piece!
The Worst: Chloe Green
Chloe Green is the daughter of retail billionaire Sir Philip Green, who owns the British multinational fashion chain, Topshop. She's also one of the stars of reality show Made In Chelsea, appearing for one season in 2011 before calling it quits.
More recently, she has been spotted enjoying luxurious getaways and carnivals with model Jeremy Meeks. Jeremy, previously a felon and member of the notorious Crips gang, found fame in 2014 when he was arrested and police posted his mugshot to Facebook. It quickly went viral and he turned his life around to become a fashion model. Yes, really.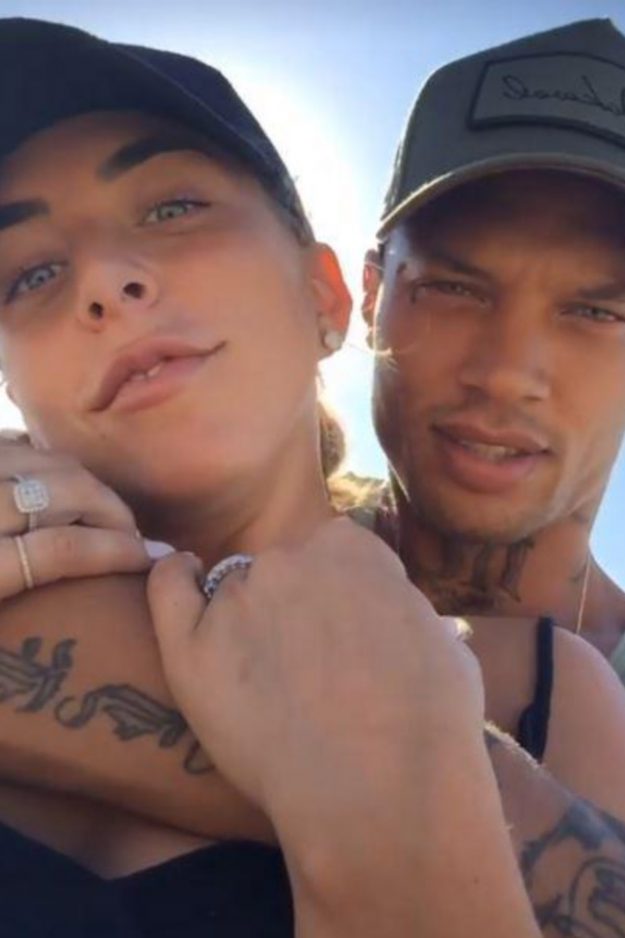 Anyway, the unlikely couple seems very loved up and in recent Instagram shots, Chloe can be seen wearing a big ring on a certain finger. It's a yellow gold band covered in diamond pave, and the centrepiece looks like nine small round diamonds arranged in a square shape with a diamond halo. Super beautiful.
Our Verdict: This bling is pretty damn gorgeous too, and very contemporary. However, we're not so sure about the 9-diamond centrepiece – why not just choose a single princess or cushion cut stone? It would work much better, but hey, that's just our opinion.