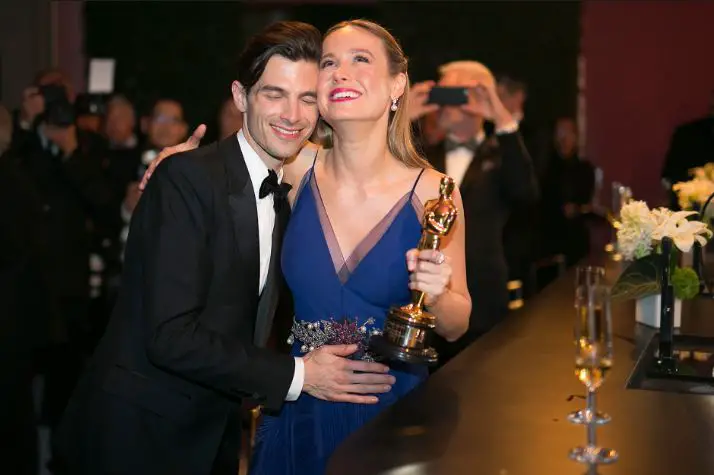 Every week we pick  the best and worst engagement rings to emerge from the land of the rich and famous. This week two newly engaged blonde bombshells go head to head…
Engagements happen on a daily basis in showbusiness. Naturally, every bride – whether famous or not – thinks that their own engagement ring is the most beautiful in the world. The rest of us, however, may or may not feel the same. We scour the web every week for the latest celebrity engagement news, and choose what WE feel are the best and worst. It's all done in the spirit of fun, we mean no harm – and of course we wish the best to all of the happy couples! Here are our picks for this week…
The Best: Brie Larson
It's been an incredible year for Brie Larson so far, and it's still only May. During Hollywood's awards season she picked up a Golden Globe AND an Oscar for Best Actress for her incredible portrayal of an imprisoned mother in Room. And now to add a cherry on top her boyfriend of 3 years, musician Alex Greenwald, popped the question. He's one member of the band Phantom Planet, who wrote that excellent theme song to 'The O.C' (California, here we come….).
Details have been unforthcoming so far and we're waiting with bated breath for a decent picture of Brie's engagement ring to emerge, because it sounds absolutely fantastic. All we have so far is some grainy shots taken when she hosted Saturday Night Live, which was also the first time she chose to publicly – and without any fanfare, we might add – show it off.
What we do know is this; Alex proposed back in March when the couple were on vacation in Japan (very exotic!), and the ring is either a vintage piece or a new, 'vintage inspired' rock. It's understated and definitely not flashy compared to most Hollywood bling, with a small (by showbiz standards) round brilliant diamond in a raised setting with scrollwork detail on the shoulders and band. So basically it's something along the lines of this;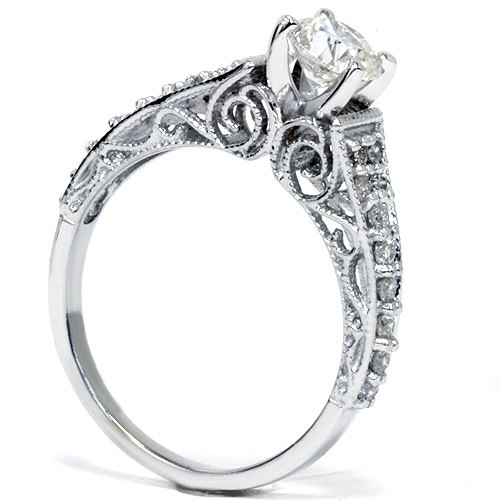 Our Verdict: Yes, yes and yes. We don't even need to see a close-up snap to know that this ring is our new favourite. Band detailing, vintage design and a small but perfectly formed diamond. Well done Brie and Alex!
The Worst: Kaitlynn Carter
Kaitlynn Carter is the girlfriend of Brody Jenner, who is technically a member of the Kardashian clan since he's Caitlyn Jenner's son (or a former member if you want to get specific, since his father and Kris Kardashian are now divorced). He hasn't featured heavily in many of their reality TV shows or public appearances however, and has forged his own reality TV and modelling career instead as a star of The Hills, Princes of Malibu and more.
Brody began dating blogger Kaitlynn two years ago, and popped the question while on a pure paradise vacation in Bali, Indonesia. And the ring he chose to do it with is so gorgeous you won't believe it. Bucking the current celebrity trend for cushion cuts, Kaitlynn wears a huge oval shaped diamond with a four prong setting and a simple, plain platinum band. There is not one pave diamond in sight to give that huge diamond solitaire all the attention it deserves.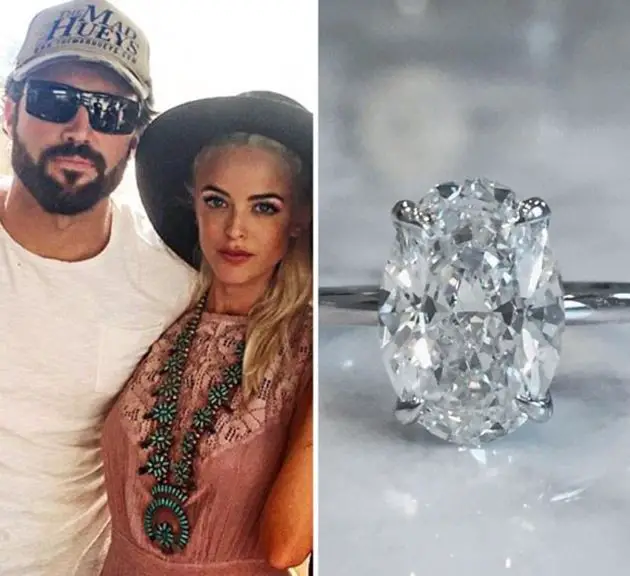 Our Verdict: Apart from the fact that two Kaitlynn Jenners is going to have us permanently confused, we really like this ring. It's simple and flawlessly executed but it still has a bang of Hollywood glamour. While it isn't completely over the top (good), it's arguably a little bit boring too (bad). Sorry Kaitlynn, but our hearts belong to Brie Larson and her vintage inspired bling.