The Golden Age of Hollywood resulted in several of our all-time favourite classic films. Gone with the Wind, Some Like it Hot, Singin' in the Rain, Casablanca – the list is endless! The era was full of glamorous actresses who quickly became style icons, with women all over the world coveting their lifestyle, their wardrobe, and even their jewellery. Throughout the 20th century however, these Hollywood screen sirens rocked some serious engagement ring bling. We've hand-picked 6 of our favourites – let's take a look…
Grace Kelly
Grace Kelly's real life story is in itself Oscar-worthy. After a promising start as a theatre actress (something her wealthy and influential parents disapproved of), she became a star leading lady for Metro Goldwyn Meyer in 1950, at the tender age of 21. Her fame skyrocketed with films such as Dial M for Murder, Rear Window and High Society, and she was set up for many more years of fame and fortune… but then she met Prince Rainier of Monaco at Cannes Film Festival. The pair began corresponding secretly, then Rainier travelled to the US on an 'official tour' – during which he somehow found time to meet Grace's family and propose.
The now world famous actress had a choice to make; accepting the Prince's proposal and living a fairy tale life as a princess would mean ending her film career for good. She chose love. Having married Rainier in 1956, she dove into her royal role, pursuing philanthropic projects and raising three children. It all came to a tragic end however in 1982, when she suffered a stroke while driving and crashed her car. Her injuries proved fatal, and heartbroken Prince Rainier never remarried.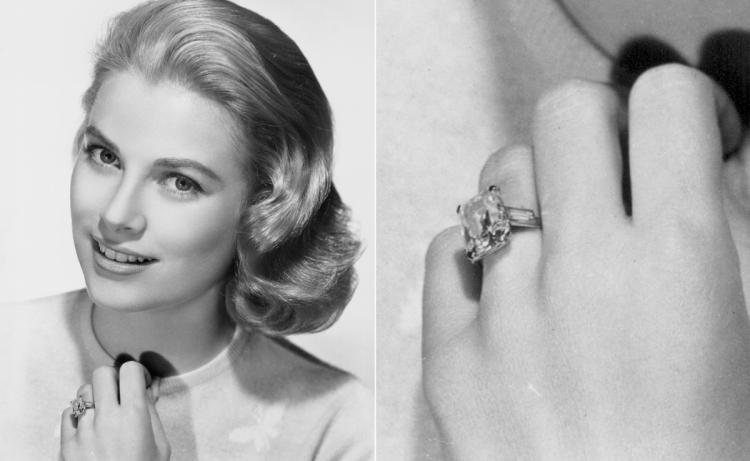 Monaco is known for its chic inhabitants and over the top wealth, so of course Rainier would 'go big or go home' when it came to the engagement ring. He gave Grace a fabulous emerald cut diamond, weighing 10.47 carats and set in a platinum Cartier ring (naturally). The design is finished with two baguette diamonds either side of the centre stone. Apparently he initially proposed with a much more modest piece, but when he saw the styles other actresses wore at the time decided to upgrade. Good decision, Rainier.
Elizabeth Taylor
No list of this kind could go without mentioning the queen of fine jewellery; Elizabeth Taylor. Born in London in 1932, this child star learned to love the limelight from a young age. She starred in films from the age of four, moving with her family to LA in 1939 and subsequently transitioning to teenage and adult roles – all the while becoming more and more famous around the world. Just a few of her most famous roles include Cleopatra, Who's Afraid of Virginia Woolf, and Cat on a Hot Tin Roof.
However, Elizabeth is arguably even more well known for her roller coaster personal life and jet setting, diva adventures; she was married eight times to seven men, after all. One husband, Eddie Fisher, was married to her best friend (Debbie Reynolds) when the two began an affair. The most fiery marriage however was Richard Burton – the man she married twice – who was also married when the relationship began. They starred in 11 films together and led a lavish lifestyle dripping in diamonds, luxury yachts and media scrutiny.
Naturally, Elizabeth Taylor has an impressive collection of engagement rings, but this one was actually given to her by Burton five years after their first marriage. Richard bought the Krupp asscher cut diamond, weighing in at 33.19 carats, for $307,000 at an auction in New York. Elizabeth said it was her favourite piece and wore it at every opportunity. It gets top marks in all 4C categories and is thought to be internally flawless. It's accented with two baguettes either side and a simple prong setting and platinum band.
Audrey Hepburn
The ultimate style icon of the 1950s and 1960s, Audrey Hepburn's fashion sense was always on-point and trend-setting. This talented actress began her life in the spotlight as a ballet dancer in Belgium, England and the Netherlands, before her breakthrough movie role in Roman Holiday came along in 1951. She want to star in several classics including Breakfast at Tiffany's and My Fair Lady, and also dedicated a huge part of her life to UNICEF.
Hepburn was married twice, first to fellow actor Mel Ferrer and later to Italian psychiatrist Andrea Dotti. With her indelible status as a style icon, both men had a tall order finding her the perfect engagement ring. Mel Ferrer made an admirable choice – although at first it didn't appear that way. On their engagement he presented her with a fairly run-of-the-mill yellow gold diamond ring. Traditional and dare we say, a little boring. However on the wedding day Audrey then received an additional two bands; one rose gold and one white gold. The idea behind it? She could choose which one to wear to complement different outfits. Ever the trend setter, Audrey opted to wear them all at once – and the stacked ring trend is more popular than ever today.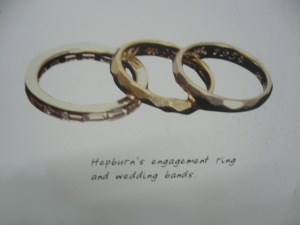 Marilyn Monroe
Another silver screen icon who met a tragic end, Marilyn Monroe's love life is almost as well known as Elizabeth Taylor's. She had a rocky start in life – she never knew her father and her mother suffered from paranoid schizophrenia, spending most of her time in and out of hospitals. As a result, Marilyn was carted between friends, foster homes and orphanages, sometimes sexually abused and feeling like 'nobody wanted her'. During the war she worked in a munitions factory, where she met a photographer and began a side-career as a pin-up model. Modelling jobs transitioned to acting roles, and the rest is history. Throughout her life, even when she was at her happiest, Marilyn suffered from depression, anxiety and struggled with substance abuse. She sadly died from a barbiturates overdose in 1962.
Marilyn's second (and first high-profile) husband was Joe Di Maggio, a legendary Yankees baseball player of the 1950s. Although the marriage only lasted for a year, the pair still harboured plenty of affection for one another for the rest of their lives. They didn't have an official engagement, marrying spontaneously in 1954 as part of publicity drive during Marilyn's suspended film contract. So her iconic ring doubled as both a wedding band and engagement ring. It's a stunning platinum band inland with 35 emerald-cut baguette diamonds, and she received it on their wedding day. It's simple, classic and very Marilyn.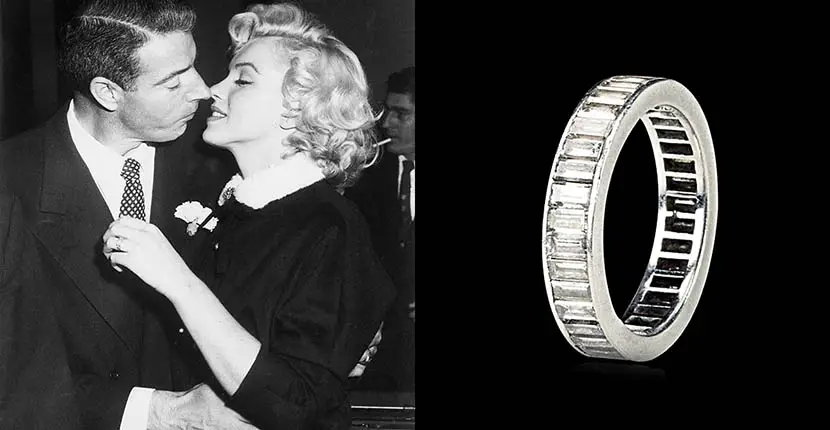 Mia Farrow
Mia Farrow has had a colourful life story up til now – and it's still going strong, 72 years later. As well her more famous acting roles like Rosemary's Baby and stage roles in The Importance of Being Ernest and Who's Afraid of Virginia Woolf, she has also done extensive work as a UNICEF goodwill ambassador and a raised a total of 14 children (10 adopted), 3 of whom have sadly passed away. Oh, and she's been married to Woody Allen, German composer Andre Previn AND Frank Sinatra.
Long before Woody Allen came along, Mia and Frank Sinatra were married (we didn't believe it either). She was 21 and he 51 at the time, and the age difference lead to the marriage breaking down within two years. He wanted her to give up her acting career and she initially agreed, but then decided to join the cast of Rosemary's Baby instead of starring in Frank's film, The Detective. While the relationship may not have worked out, Sinatra certainly had good taste in engagement rings. He presented Mia with a 9-carat pear shaped diamond solitaire with baguettes either side. Dazzling.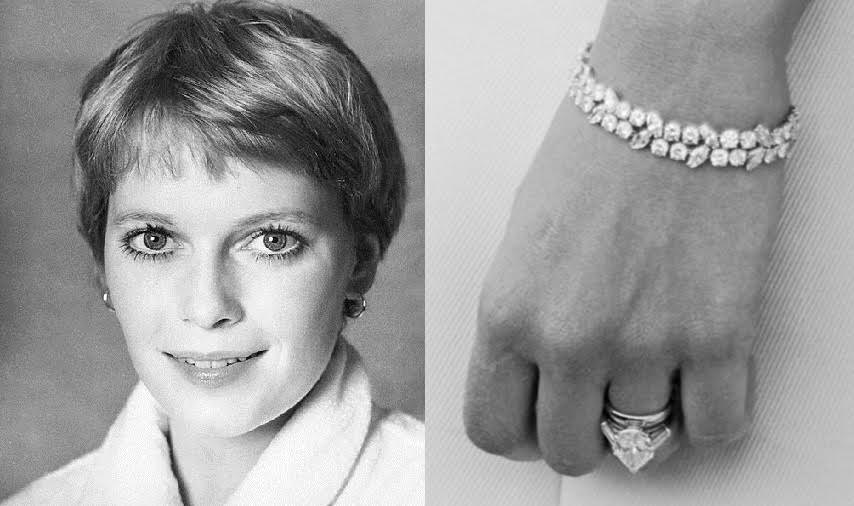 Lucille Ball
Known to you and me as 'I Love Lucy', Lucille Ball started her showbiz career as a model, Broadway player and minor film actress. When she met future husband Desi Arnaz in 1940, he was a bandleader on more or less the same career path. They created the iconic 'I Love Lucy' show together, something which TV executives were initially reluctant to approve. They didn't believe the redhead, American Lucy and Cuban Desi would appeal to viewers – but they were very wrong.
While the couple reached stardom with their TV show in 1948, in real life Lucy and Desi had been married since 1940. They eloped and couldn't buy an engagement ring since all the jewellery stores were closed at the time, so they bought a brass ring from Woolworths in the interim. After the wedding, Desi upgraded to a fabulous platinum ring with a cushion cut diamond that looks to be around the 10 carat mark, if not higher. Sadly, their reality was nothing like the relationship they portrayed on the TV screen, and Lucy and Desi parted ways in 1960.