Every week we pick the best and worst engagement rings to emerge from the land of the rich and famous. In this edition, two totally different rings go head to head…
Engagements happen on a daily basis in showbusiness. Naturally, every bride – whether famous or not – thinks that their own engagement ring is the most beautiful in the world. The rest of us, however, may or may not feel the same. We scour the web every week for the latest celebrity engagement news, and choose what WE feel are the best and worst. It's all done in the spirit of fun, we mean no harm – and of course we wish the best to all of the happy couples! Here are our picks for this week.
The Best: Megan Gale
Megan Gale is an Australian model, actress and fashion designer. If you're in the land of Oz you've probably seen her on your TV screens as a judge on Australia's Next Top Model or as the host of Project Runway Australia. If you're elsewhere in the world, you'll probably recognise her as Valkyrie in Mad Max: Fury Road.
Megan has been in a relationship with Australian football player Shawn Thompson since 2011. They welcomed baby boy Rivers in 2014 and are expecting baby number two any day now. So some pretty bling and a marriage proposal is long overdue, if you ask us!
Shawn took a very pregnant Megan to the beach with their son and pulled off a super romantic proposal, although Megan is keeping the full details under wraps. She did say they 'made her heart melt' and that she 'may have cried a little bit', and also praised Shawn for managing to get down on one knee after five knee operations!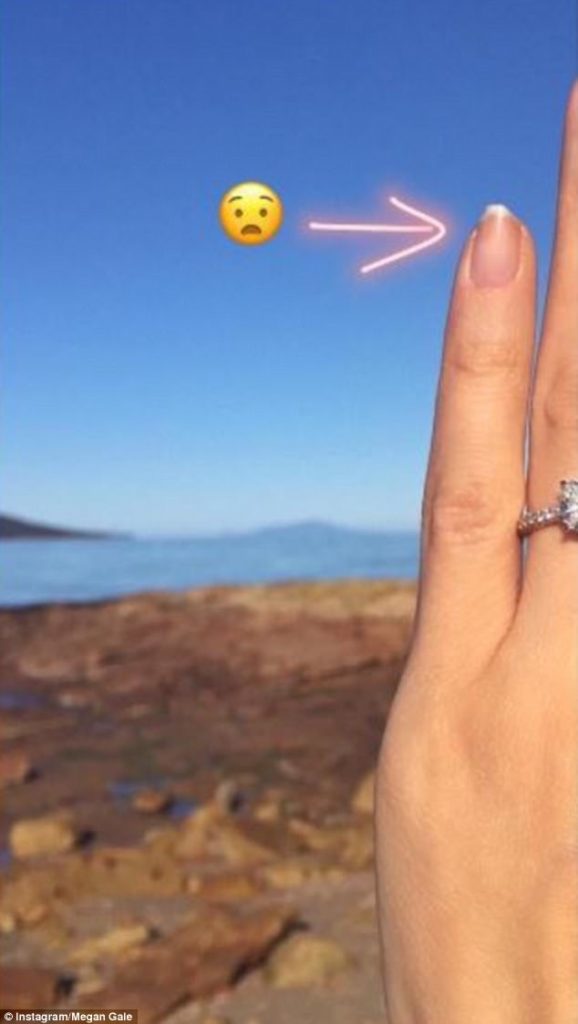 But what of the ring? Shawn had this baby custom made, and it's truly beautiful. Although Megan only shared half of it in an Instagram pic, cheekily focusing on a chipped nail in the rest of the frame, we can see a glamorous pave band and a diamond solitaire in a prong setting, Looks like an oval or cushion cut to us, and beautiful either way.
Our Verdict: Even though we can only see half of it, this engagement ring is a definite winner. It sparkles but it's not too brash, it's delicate, and it's (probably) an oval diamond, which we LOVE. Please let us see a full picture soon, Megan.
The Worst: Rachel Lindsay
Rachel Lindsay is the bachelorette in the hit reality TV show known as, well, The Bachelorette. She's been eyeing up some eligible gentlemen for the past few months, and finally chose 'the one' in a dramatic finale. She has qualifications in law and sports management, and was working at a law firm before deciding to join the reality TV world. Before The Bachelorette, she was a contestant on the show's counterpart, The Bachelor, where she was the third choice of bachelor Nick Viall.
Her new fiance, hand picked from a bunch of beautiful bachelors, is Miami native and chiropractor. Bryan Abasolo. While fans of the show were fully convinced that Rachel would end up with the runner up (businessman Peter Kraus), he didn't feel comfortable proposing on TV after just weeks of dating and wanted to establish a real, off-camera relationship first. Rachel said she hadn't come this far to just get a boyfriend, so she turned to Bryan instead.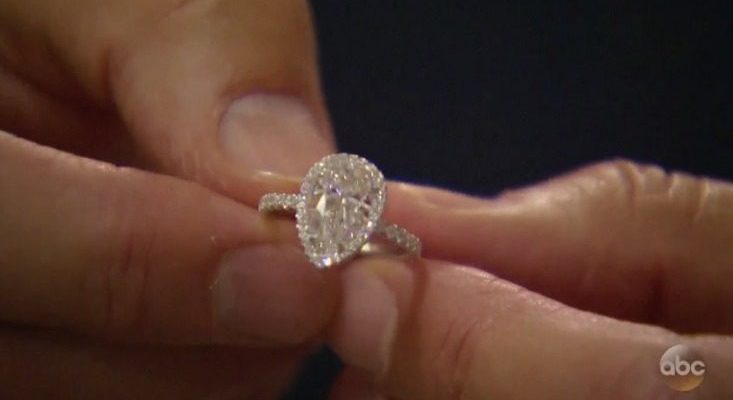 Luckily, Bryan came equipped with the goods. As is tradition in Bachelorette land, the ring was designed by Neil Lane and was personally selected by Bryan. It's a pear shaped centre stone weighing over 3 carats, and is accented with a pave border and platinum band with more pave diamonds. Definitely worthy of a starring role on TV!  
Our Verdict: We know Neil Lane is basically a jewellery God, and we really do love pretty much anything he does. But it just seems like we're seeing the same designs over and over again on The Bachelor and The Bachelorette. This one is still jaw-droppingly beautiful, but we just feel like we've seen it more than once before. Sorry Rachel.