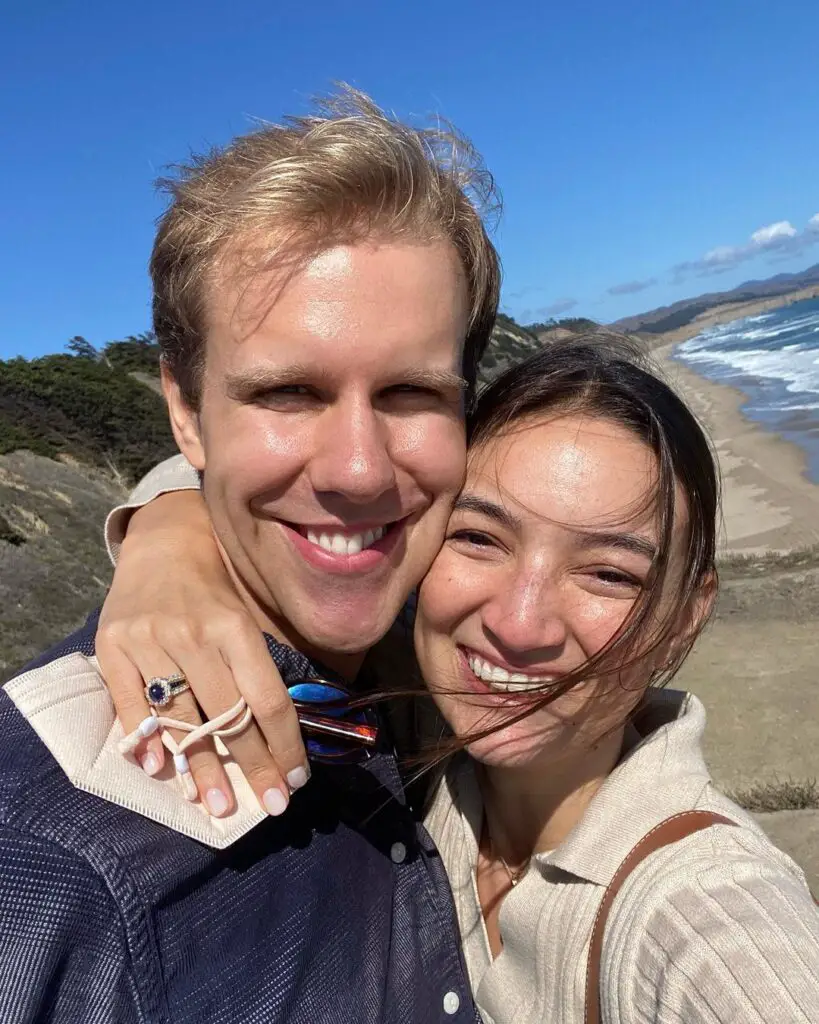 TikTok's it-girl is getting married. Emily Mariko, also known as the salmon queen, and the poster child for UGC creators, took to social media to announce her engagement to her long-term boyfriend, Matt, and the internet is going crazy.
Mariko is a social media influencer from California whose viral TikTok recipes put her on the map. Once upon a time, she was known for creating the rice bowl of millennial girls' dreams. 
Now, she's also known for her breathtaking engagement ring. 
It features an oval sapphire cabochon surrounded by round diamonds, accented by square-shaped sapphires with round diamonds on the shank. 18ct yellow gold, sapphire, and diamond.
It's a lot, but it's exquisite. And we've got the details. 
Here's everything you need to know about Emily Mariko's engagement ring.
What makes Emily Mariko's Engagement Ring so unique?
Emily Mariko's engagement ring is unusual but in all the right ways.
The most unique attribute of the ring is the center stone: an oval sapphire in a cabochon cut. A cabochon is a smooth, polished dome-shaped cut that lacks the facets you usually see in an engagement ring. Facets are flat surfaces cut on the surface of a stone, which let it absorb and reflect light. 
Cabochons are less common and less traditional than faceted stones, making for a unique, rare showstopper of an engagement ring. 
Why are cabochon-cut sapphires so rare?
The rarity of high-quality sapphires: high-quality sapphires are already rare, let alone a sapphire that is large enough to cut into a cabochon shape and has the right color, clarity, and quality.
Technical skill: cutting a cabochon is a specialized process requiring impeccable technical skill and decades of experience. Achieving a perfectly rounded, polished surface without facets isn't something everyone can do.
Historical significance: Cabochon cut sapphires are generally associated with antique and vintage jewelry and are less common in modern designs. 
Add an accent of calibré-cut sapphires and brilliant-cut diamonds, and you've got a showstopper on your hands (quite literally). I don't think anyone can argue the beauty of Emily's ring. 
Where is Emily Mariko's engagement ring from?
Emily Mariko's engagement ring is from Van Cleef & Arpels, a renowned luxury jewelry brand. Known for their exquisite designs and exceptional craftsmanship Van Cleef & Arpels is a household name in the world of engagement rings. 
Established in 1910, they have a long history of creating exquisite jewelry, earning their reputation for excellence over many years. Seen as a symbol of luxury, Van Cleef & Arpels have brought to life some of the most iconic engagement designs in the 21st Century. From Grace Kelly's engagement ring — a beautiful emerald-cut diamond gifted from Prince Rainier III of Monaco in 1956 — to Elizabeth Taylor's engagement ring from Richard Burton in 1967, Van Cleef is no stranger to beautiful rings.
And Emily Mariko's engagement ring is no shrinking violet.  It begs the question, did she design the ring herself?
Did Emily Mariko choose her engagement ring herself?
The jury is still out on whether or not Emily Mariko chose her engagement ring herself. In the comment section of Emily's engagement reveal, many curious fans thought the ring was almost antithetical to Emily's style: minimal, basic, clean girl aesthetic. 
The show-stopping sapphire didn't quite fit this mold, with many speculating that it wouldn't have been a ring she chose for herself.
Emily and her fiance, Matt, has neither confirmed nor denied who picked the ring, but engagement ring designer Lauren Boc, weighed in on the topic. "When a man is picking out a ring for his girlfriend, and he's picking it out alone, he tends to be pretty conservative and go for something traditional," Boc explains. 
Emily Mariko's ring is far from conservative. Traditional? Definitely not. In fact, it's so far from it that it would most likely have been chosen by someone really sure of their own personal style. With that in mind, Emily most likely had a hand selecting the ring. 
If she didn't, Matt has even better taste than we first thought.
How much did Emily Mariko's engagement ring cost?
The ring is from Van Cleef & Arpels, a renowned luxury jewelry brand with exquisite designs and exceptional craftsmanship. 
They are also known for their eye-watering price tag. But with good reason. While it's not in the public domain how much Emily Mariko's engagement ring costs, you can currently find her exact ring on luxury resale sites for around $33,350. 
Emily Mariko's ring might not be within your budget, but it provides the inspiration we all need in 2023. It's giving Princess Diana meets millennial TikTok star, and we're here for it.