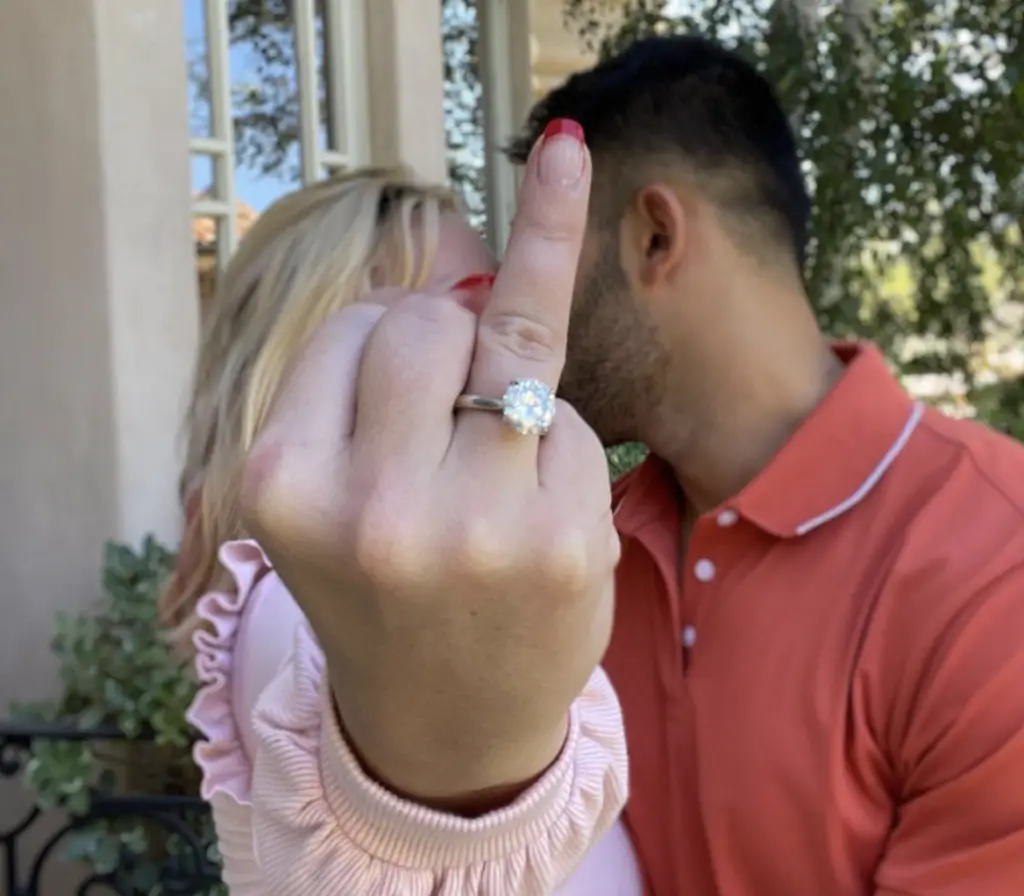 Britney Spears is a pop icon who has been in the public eye for over two decades. She's given us hit after hit, worn a python like a scarf, and taken us through a rollercoaster ride of a conservatorship. 
She's not showing any signs of slowing down, recently getting engaged to long term boyfriend Sam Asghari.The engagement was the talk of the town, but the part we're just interested in is the stunning four-carat round diamond engagement ring.
Here's everything you need to know about Britney Spears' engagement ring.
What is Britney's engagement ring like?
Britney's engagement ring is a gorgeous four-carat diamond  set on a platinum band. 
The stone is a round brilliant cut diamond that is surrounded by a micro-pavé halo of smaller diamonds. 
A brilliant cut maximizes a diamond's sparkle. It is a round, symmetrical cut that features 58 facets that are strategically placed to allow the most light to enter the diamond and reflect back out, creating a dazzling and eye-catching appearance.
It is the most popular and widely used diamond cut for engagement rings because it maximizes the diamond's natural beauty, making it look larger and more brilliant than other diamond cuts.
The micro-pavé halo also adds to the overall impact of the ring, making it appear larger and more brilliant than it already is. The band also has smaller diamonds set along the sides, which add to the overall brilliance of the piece. 
The ring also has 'Lioness' engraved in the platinum band, which represents Britney. Sam explains: "The male lion has always been the symbol of the king of the jungle, but it's not true, it's really the female and she's very strong and independent. And lioness was a beautiful name that just came to me out of nowhere. So it's kind of a nickname, but I don't call her that everyday. It was kind of like a symbol."
It's safe to say the symbol now holds a special place in both of their hearts.
Who designed Britney's engagement ring?
Asghari helped design Britney's engagement ring — she had no part in it. In fact, she didn't have any idea he was proposing.
Sam enlisted Roman Malayev at Forever Diamonds NY to design the ring, which he said was a "princess cut for a real life princess." A sweet sentiment, but one that didn't quite make sense, as he actually went with a round brilliant diamond rather than a princess cut.
Malayev is known for his expertise in diamonds, his commitment to customer service, and his unique designs that combine traditional elegance with modern style. A perfect choice for Britney's engagement ring.
How much did Britney's engagement ring cost?
While the exact cost of Britney's engagement ring is not known, it is estimated to be worth between $70,000. This may seem like a hefty price tag, but for a stunning four-carat diamond, micro-pavé halo, and platinum band, it's to be expected. 
Britney Spears' engagement ring is a beautiful and timeless piece of jewelry that perfectly captures the love and commitment between her and Sam Asghari. It may not be a princess cut, but it certainly is a ring fit for our pop princess.